Italy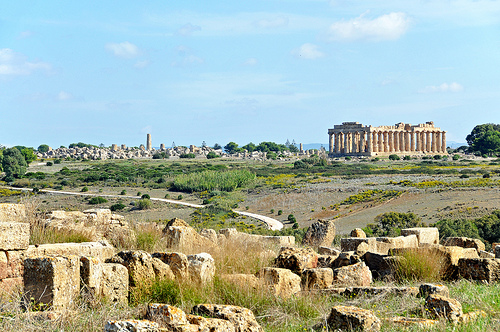 Published on September 22, 2011 | by Andrea Guerriero
0
A journey in Sicily to discover UNESCO world heritage sites
UNESCO is established in London in 1945, as common will – in cooperation with the UN, to contribute to the maintenance of peace, equality of peoples and respect for Human Rights, through the channels of Culture, Education, Science and Communication. Currently, Italy is the country that has the largest number of sites included in the UNESCO World Heritage List (more than forty sites) as evidence to the increasing awareness that, the countless artistic, architectural and natural treasures in Italy, must be protected and transmitted to future generations.
5 of these sites are right in Sicily. So welcome to a journey to discover the heritage of humanity jealously kept down in the cradle of the Mediterranean.
The Villa del Casale is a late Roman villa, whose ruins are located about 4 km from Piazza Armerina. The charm of this structure, which was declared UNESCO world heritage site in 1997, lies in the fact that it was built keeping up with the course of the land so that it is structured on terraces in three different levels and spread over an area of 4,000 square meters.
Following, one of the most fascinating sites of the Hellenic Mediterranean: the Valley of the Temples in Agrigento, also established in 1997. Curiosity: it is known to few that a portion of the Old Town is still buried and preserved beneath the modern fields and orchards.
In year 2000, an entire archipelago was declared a World Heritage Site: the Aeolian Islands, with the 7 superb Alicudi, Filicudi, Lipari, Panarea, Salina, Stromboli, and Vulcano, the latter two are still active volcanoes.
Fourth site of the Sicilian UNESCO heritage, is instead a group of cities: an entire area that includes the great wonders of Baroque still standing through the years to the many earthquakes that frequently devastated portions of this part of the island. They are the eight Late Baroque cities of the Val di Noto, in the south-east of Sicily: Caltagirone, Militello Val di Catania, Catania, Modica, Noto, Palazzolo, Ragusa and Scicli, Unesco heritage since 2002.
Finally, the most recent to have been established (2005), but undoubtedly one of the oldest prehistoric sites of the island: the rocky Necropolis of Pantalica. More than 5,000 tombs, many of which are to be dated between the thirteenth and seventh centuries BC. The site includes two different parts: the ancient Greek and Roman relics, and the old part of Syracuse, with Ortigia, the first part of this city founded by Greek colonists arrived from Corinth in the eighth century BC.
One last curiosity: did you know that the UNESCO world heritage site also includes three "intangible" treasures? The Canto a Tenore – the most archaic expression of ethnic music of central Sardinia, the recent Mediterranean Diet (since 2010), where the word diet should be understood in its original meaning dìaita, which embraces not only eating habits but a complete "lifestyle"; and finally the Sicilian "Opera dei Pupi", a traditional form of puppet theater founded around the nineteenth century.
Photo by archer10 (Dennis)