Oddities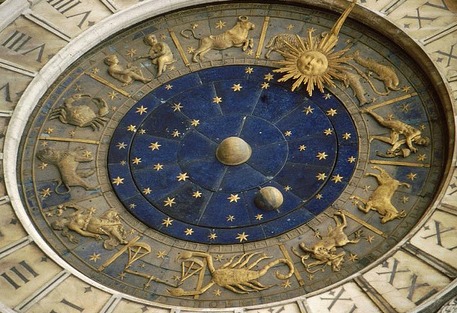 Published on December 31, 2012 | by Daniela
0
2013 Travel Horoscope: take a trip under the sky
You see, life is already so hard and complicated, so sometimes it's just worth letting someone – or something – else decide what is best for those simple things in our lives so why not let the stars tell us where to go on holiday this year?
Nevertheless, I believe horoscopes go very well with psychology. I am deeply interested in psychology, and think it works just fine the way it is. But if you are interested in efficiency, then astrology is the way to go! Here is our 2013 Travel Horoscope, for your pleasure!
Aries: sturdy & dynamic
Aries enjoys living on the edge. This danger junkie is a risk taker who'll feel excited only finding enthralling destinations. That being said, make it happen! Recommended Ariens stops are all located in the same country: Spain. From Ibiza to Barcelona, up to Bilbao, that's where your heart won't stop beating!
Taurus: sweet & patient
Taureans are conservative and old-fashioned. These types are co-operative and easily fit in with others. They gravitate towards what is traditional, so why not meeting people and other cultures, by chasing the best get-togethers and festivals around Europe? Choose among the Oktoberfest in Munich, Las Fallas in Valencia, the Carnival of Venice, St. Patrick Festival in Dublin, there's one whole year left, pack your bags…
Gemini: flexible & perceptive
Geminians rarely go back to the same destination unless they have fallen in love with the place and wish to explore it further. Ideally, they'd have a small village, preferably with mountains, ruins and museums, very close to urban hubs that offer lots of variety, such as Amsterdam, London, Paris, all cities with quieter, yet interesting suburbs nearby.
Cancer: unpredictable & aware
Cancerians are eccentrics, and always like to be different, often uninterested in others actually, they love staying clear of what they consider to be trendy. Cancer is a water sign so the best holiday for a Cancer traveler is near water. Perfect destinations may be the Greek Islands, Sitges in Spain, but also the charming canals of Amsterdam or the breathtaking Lake Como.
Leo: adventurous & prompt
That's it! Audacious and always ready to leave for any unpredictable place, Leos are adventure travelers. They can go and run with the bulls in Pamplona, dance until dawn at an underground club in Berlin, or even … ride down a cliff in Santorini upon a donkey! Have fun!
Virgo: indecisive & available
It seems like natives of Virgo will be first-time-travelers forever. They're always nervous about flying, concerned about what they will find once they get to their destination, always undecided about where to go! Well, dear Virgo, we can help set your mind at ease. Here are some perfect cities for your typical "must-see lists" and inside tracks on the "must-do activities": London, Paris, Rome and Berlin. Remember, planning your trip should be fun!
Libra: balanced & elegant
This elusive and fascinating creature can't get enough art, culture and history. Librans only wish for holidays filled with museums, archeological sites, groundbreaking architecture and traditional experiences. Well, there are destinations all over Europe that will cater to the student inside you. Recommended destinations are Scotland, Greece, and Italy.
Scorpio: determined & sensual
One thing is for sure: those mysterious strangers born under this sign will always get what they want. They're likely to go anywhere, do anything and like everything, but the passion within them also runs to an interest in the world's dark, sensual side. And they have to travel alone. In the end, Experience is really what the traveling Scorpion is all about. Intrepid Scorpions are drawn to unexpected places off the beaten track, let's say, Crete, Sardinia, Lisbon
Sagittarius: vigorous & caring
The more unusual the destination, the better. The Archer seeks adventure and mental stimulation, needs something always fresh and new. Foreign destinations and people are very attractive to Sagittarians, so it's most likely that their holidays will take them away from their homeland, towards places where they can combine also learning with travel. Good destinations could be Reykjavik, Florence, or Paris.
Capricorn: honest & protective
Dear Capricorn, you should be completely honest with yourself about what you want and how you want to experience the world. It's important to think about this aspect of your trip, not just what cities you want to visit. Think Vienna, or Madrid – cities with culture, charm and more than a scrap of order. However, since Capricorns are likely to travel more as they get older, any destinations well-suited to seniors, any about calming down and stepping away from the rat race to recharge batteries, may be attractive to them.
Aquarius: independent & creative
Aquarians usually like to visit places they have fond memories of, such as their hometowns. They will often go back to the same holiday destination time and time again. And if they live in a foreign country, just getting back home at any occasion, will be the best to them. On the other hand, they are independent and adaptable, and when they travel, their energies go into getting off the beaten track: Leipzig, Antwerp, West of Ireland, you name it!
Pisces romantic & emotional
Pisceans: soaking up the atmosphere is enough for them. A perfect sunset on a secluded beach in the Algarve or Costa de la Luz, a gondola ride in Venice, or even a hot chocolate at Vienna's Cafe Central. Pisceans should always travel with a partner to be happy, since they believe each journey should be a honeymoon, to share with someone of very important.
Did you find our personalized horoscope particularly accurate? Actually, it's a trick. Or maybe not… The truth is that most travelers have some elements of all of the things we mentioned above in their ideal travel experience. Wherever you choose to go, it's going to be an amazing experience, because you will get back home with something new, and very special, inside of you.
Photo by nicksarebi