Europe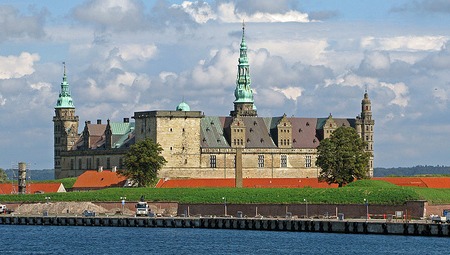 Published on April 2, 2012 | by Elena
0
Shakespeare's Kronborg Castle in Helsingør, Denmark: to visit or not to visit?
Kronborg Castle in Elsinore, 50 Km north of Copenhagen, is one of northern Europe's most important Renaissance castles. Renowned worldwide for being the set of Shakespeare's Hamlet, this is also the most famous castle in Denmark, visited by some 200.000 people every year.
Kronborg Castle, immortalised by Shakespeare in his masterpiece Halmlet, stands proud in Helsingør, or "Elsinore" – Shakespeare's spelling – a city of just under 50.000 residents, in the north eastern corner of the Zealand island, Denmark.
The Castle was built by King Frederik II, in 1574-84, on the spit of North Sealand, and its function was to secure state taxes and revenues, but also to defend the Kingdom of Denmark.
The Castle was ravaged by a heavy fire in 1629 and only the Chapel was saved. King Frederik II' son King Christian IV started the rebuilding and restoration of Kronborg Castle in Baroque Style adding new interior and decorations, thus making it very similar to what it looks like today.
Kronborg Castle is one of the top tourist attractions and historical venues in Denmark, and is a property of the Danish state which also caters for receptions, conferences and gala dinners for up to 400 persons. Every year, it also becomes the setting of William Shakespeare's famous tragedy Hamlet – Prince of Denmark, which is performed in the courtyard.
The yard of Kronborg itself, gives a good impression of the size of the castle. Today, you can tour the castle, wander through the king's and queen's quarters or the great hall – one of the longest in Scandinavia, visit the Maritime and Trade Museum on the ground floor or take a tour of the extensive, creepy catacombs, all of which are open year-round.
One important highlight: Viking chief Holger Danske (Holger the Dane) is an important national symbol for Denmark. His statue – created by H. P. Pedersen-Dan in 1907 – is placed in the dark Casemates of Kronborg Castle, and is visited by several hundred thousand tourists every year. A Danish legend has it that Holger Danske will wake and defend his country if it ever should be in danger or be invaded.
At the main gate of Kronborg, visitors can enjoy one of the most extensive souvenir shops seen in Denmark, which sells both ordinary souvenirs as well as items not seen anywhere else. Enjoy!
Photo by Poom!