Festival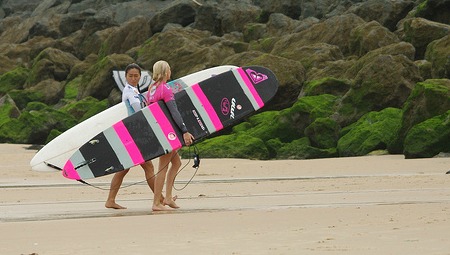 Published on June 6, 2011 | by Andrea Guerriero
0
Roxy Jam Biarritz: The Surf Art Music Festival
The sixth edition of the Roxy Jam will still be held in Biarritz, France, between Wednesday July 13 and Sunday 17. This unique festival mixes culture, surfing, art and music in the setting of the legendary Côte des Basques beach, where for the first time in 1957 surf landed in Europe. Completely free for spectators, this event has attracted 43,000 people in 2010.
This year, the Roxy Jam Biarritz will be inspired to California, where 20 years ago the Roxy brand was born. The Roxy Jam Biarritz has become a milestone in the global surfing, and female longboarders now have finally a real tour to compete in, with worldwide recognition.
The ASP – the Womens World Longboard Champion title, has been initiated and supported by Roxy and gathers the best female longboarders from across the world with names such as Kassia Meador, Jennifer Smith, Kelia Moniz and the French Coline Menard and Justine Dupont.
In addition to the competition, the surfers will take part in a unique "disguised " Expression Session, consisting of three stages of pure fun and stylish surfing. Moreover, this year the Roxy Jam Biarritz comes up again with some free surfing lessons for the public. You can subscribe directly on site, at Côte des Basques.
Since the first Roxy Jam, visitors can attend an Art Festival of Boardculture where photographers, painters and sculptors exhibit their creative works inspired by the culture of surfing. This year, the exhibition of the Roxy Jam is dedicated to California, land of birth of surf, and hosts works by prominent Californians such as Kassia Meador, the charismatic longboarder who is also a successful photographer. Also the Roxy Girl Pandora Decoster will exhibit her portraits inspired by the icons of surf in addition to numerous retro short films.
Many other arts events and sessions of live art by Jennifer Smith, Brandon Lomax and Colin Whitbread will guide you through many other aspects of a surfer's life: the exploration of new territories and cultures, sustainable living, balanced diets for a healthy body and mind…
And last but not least: music, because Roxy Jam is also music and live concerts, an essential ingredient for this surf art music festival. Over time, the Roxy Jam Biarritz has built a solid reputation in the music scene of Europe, with proposals, beats and music styles that fully reflect the energy of this event. This year, Port Vieux will be livened up by the rhythm of The Sounds. And as a support group, the duo Lilly Wood & The Prick, who will play live on Saturday July 16, in the gorgeous setting of Port-Vieux beach.
Photo by elkhiki