Europe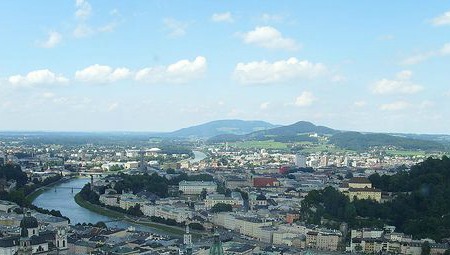 Published on February 21, 2011 | by Andrea Guerriero
0
In Salzburg, searching for Mozart
In Salzburg, everything speaks about Mozart, the great Austrian composer born in 1756 on the number 9 of the Getreidegasse.
The Salzburg-Mozart connubial is almost total (even if the composer never had a good feeling with his native city preferring the cultural life of Wien) and this immediate to understand for who arrives here by flight: in fact the city airport, the second for passengers transit in Austria, is called WA Mozart Salzburg Airport.
The composer rage everywhere taking the form of gadget or chocolate, the Mozartkugeln are little balls of chocolate and marzipan, and in the city there are numerous places dedicated to him included in the tourist circuits.
At first, the House-Museum where he was born and where there are a lot of personal objects of the composer, still well preserved: the violin that he used in young age; the violin used in the concerts, his pianoforte, and on the second floor, some interesting "miniature stages" reconstructing some of the most famous theatric representations of the operas of Mozart. Next to the house in Getreidegasse there is a little Museum where it is possible to admire some scenes of the familiar life of the great Austrian composer.
A lot of thing have been dedicated to him in the city: Mozartsteg, a street leading to the famous Mozartplatz (Mozart Square), in which dominate a commemorative statue of the artist dating back to the 1842. Here, there is also the Musical University Institute of Salzburg, strongly wanted by the von Antretter family, that was very close to that of Mozart.
In any period of the year, there are musical manifestations dedicated to the famous composer, but some of the most characteristic manifestations are those organized at the San Peter Monastery of Salzburg, where artistic and musical representation are developed with epoch costumes and lunches and dinners with original recipes of the age in which Mozart lived.
Mozart is so pervasive that also places where he almost never went become "Mozartian", such as the little country of St. Gilgen (25 km from Salzburg), where Mozart grandfather lived, and his sister house in Nannerlstrasse, on the north of Salzburg. One of the most interesting things is that in the proximity of the last place, how someone says, there is a…. brewery!
Photo of  Salzburg by  rob_grant