News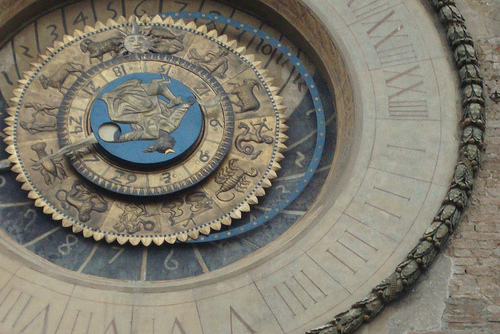 Published on January 3, 2012 | by Daniela
0
Your 2012 Travel Horoscope in Europe
During the first months of the year, many rely on their horoscope for guidance to forecast their future in the months to follow! To each zodiac sign, it is well-known, corresponds a color, a precious stone, a flower, a number… and why not a trip somewhere in Europe?
The existence of a possible correlation between geography and zodiac is not a recent discovery. The history, traditions, and the same human geographical characters that distinguish, for example, some of our regions and cities, present singular affinities with the values of the sign in which they were attributed.
Therefore, in anticipation of the arrival of the new year, let's take a look at which is the best destination in Europe towards which to head for each sign, during 2012, in order to enjoy a dreamy experience.
Aries
Fearless and proud, Aries has an active and dynamic personality. To Aries we suggest England, with London out in front: dynamic city, cheerful and audacious. With its countless attractions, there will be no time to rest, and not to be missed is the attraction of the year: the Olympic Games 2012!
Taurus
Attached to Mother Earth, Taurus preserves its strength and simplicity. Passionate about good food, he/she plunges in nature almost with voluptuousness, to capture emotions and sensations. We will send Taurus to the discovery of the wonderful Italian nature reserves, where each region also offers many typical local products to delight the palate, from Sicily's fine wines from to Piedmont cheeses.
Gemini
Feels the need to move continually from one situation to another, and always needs to meet new people: he/she is a true citizen of the world. And where can Gemini enjoy a wonderful vacation if not in Brussels? Varied, dynamic, overflowing with contrasts and colors, this is a cosmopolitan City par excellence, with a great vivacity and a strong charm linked to its role as the crossroad of Europe.
Cancer
Enigmatic and fascinating, hypersensitive and intuitive, Cancer tends to live more in a dream than in reality. That is why we would like Cancer to visit Scotland, ancient and wild land that hosts over 3,000 dreamy castles; but for a trip "away from reality" Amsterdam is the destination towards which to head!
Leo
His/her nature is radiant, his/her personality bold and adventurous, leads him/her to face a variety of situations. For Leo, the must visit is Madrid, the most caliente capital in Spain, as well as hub of the movida, where he/she will be have no problems in being the centre of attention.
Virgo
An absolute planner and scrupulous to excess, leaves nothing to chance, with a precise and orderly behaviour. This is why, we would like Virgo to visit Berlin, in order to appreciate its order and the wonder of its architecture, where each project is made with attention to the smallest detail.
Libra
Romantic and seductive, is always in search of balance and of ideal forms of beauty. In life, he/she moves with elegance, with grace, his/her attitude is pleasurable charming. Paris is Libra's city. To visit perhaps as a couple!
Scorpio
Complex and mysterious, possesses an instinct which drives him/her to penetrate into the deepest secrets of the soul. Sharp observer, does not miss any opportunity to learn and succeed. For all these reasons, the Scorpion should be born in Spain, from Valencia, to Barcelona and Seville, to enjoy its strong flavours and its buildings so complex and mysterious that seem to be inspired by divine forces.
Sagittarius
Active and enterprising, he/she is a lover of free and adventurous life, and unusual emotions. Like a wild horse galloping free around boundless prairies, so Sagittarius could not fail to appreciate Ireland, Dublin, its capital city, in particular, with such a tumultuous past, which continues to relive in the present, with those enchanting expanses of green that make it unique in Europe.
Capricorn
Traditionalist, aristocratic and austere. He/she loves antiquity and searches intellectual and fascinating adventures. His/her destination is Greece, to discover the acropolis of Athens, or perhaps to enjoy a tour through the "fingers" of the Peloponnese.
Aquarius
Original, independent, dynamic, not very interested in the past and traditions, he/she likes "doing" rather than "visiting": Aquarius was born to ski, and we will send him to the Alps, where he/she will be spoiled for choice between the slopes of Folgaria, the breathtaking views of the Plateau Rosa, freestyle and snowboarding in Bardonecchia, etc. ..
Pisces
What is most striking about his/her personality is that sort of purity and innocence that shows through actions and emotions. The need to feel loved and protected, moreover, makes him/her humble and devout, always ready to sacrifice for the common good. Who is born under the sign of Pisces must visit Portugal, preferred destination of pilgrimages, to discover the places of Saint Anthony of Lisbon and then Fatima and Coimbra, perhaps walking along the Camino Portugues.
Photo by vavva_92