Internet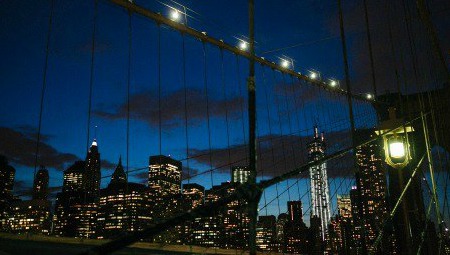 Published on April 3, 2013 | by Daniela
0
A Wedding Photographer travelling to San Diego and New York
California is the cradle of the "Wedding market," very sought after by industry professionals throughout the world. Our friend Erica, now on this side of the ocean to attend the WPPI, Las Vegas Wedding & Portrait Photography Conference & Expo, has thus found the opportunity to work with a wedding planner here in site.
"Thanks to the helpful Anglo-Saxon influence of an Italian Wedding Planner, Barbara Fatamadrina, after tweeting each other for a few days, I've got the chance to work with Elisa Sutter from Elisa Sutter events based in San Diego." This collaboration has allowed us to give life to a fantastic Engagement Shooting in perfect Southern Californian style.
Before arriving in San Diego, Erica and Marco (her husband and traveling companion) made a stop in Los Angeles which, as well as being the setting of countless American TV series, is also home to more than a thousand wedding photographers, among the most quoted and followed in the world.
"I wanted to see with my own eyes the places that are the backdrop of thousands of popular blogs and magazines that have amazed me. Los Angeles does not betray our imagination at all, from Hollywood Boulevard, the road where all the stars of celebrities are, to the city traffic, the skyscrapers, the magnificent Beverly Hills with its elegant and majestic homes. " But it also offers glimpses as Griffith Park and all the surrounding hills that are small oases of well-being, just like in the "Little House on the Prairie" TV series. Without forgetting the stylish Santa Monica, with its endless beaches, trendy clubs and fashionable shops.
San Diego is totally different, characterized by a strong Mexican influence, a Spanish-style architecture in the old town, and a city center of typically American skyscrapers. "The shooting – says Erica – could only be set up but in Presidio Park, in the old town, a park with a central Mexican farm house, now a museum, the symbol of San Diego." The protagonist of the Engagement Shooting is a mixed couple, she is Mexican and he is Lebanese, they are Elisa's clients and will get married in July.
For the uninitiated, an Engagement Shooting – still little known in Italy – is not a general 'test' before the wedding day, but an actual photo shoot that marks the last months as boyfriend and girlfriend. Basically, it's a way to have a (professional) photographic memory before the marriage, but also an opportunity to understand what kind of photographic genre makes everyone feel at ease. The Engagement Shooting is also called Engagement Session, and then of course E-Session.
"Damaris and Omar, the two fiancées, tell me that despite being of different religions, she is Catholic and he is Muslim, their families will certainly find a healthy compromise for the wedding ceremony, but also for the organization of the event… I guess it's a way to downplay their contrasts and different origins. The couple, who know each other since high school, have been extremely discreet in their gestures, manners, and grace, which quickly becomes friendliness, and cheer once they hit it off with my camera and me."
Elisa has arranged the set up with traditional Mexican colors, red and blue, including paper flowers, Save the Date (a graphic element used to remind guests about the wedding date, a sort of pre-invitation,) posters, and picnic plaid. "A real picnic indeed, complete with basket, sparkling wine for the toast, sandwiches, and Cup Cakes!"
When we talk about Engagement Shooting, people usually tend to say things like: "I don't look good in pictures, I'm not photogenic, it's very difficult for me to stand in pose, I always have a dumb expression in the photos." That's why, Erica points out, the first ten minutes are usually a bit embarrassing, but it's also the time when you start to get along with the photographer and the environment. Then something happens, understanding clicks and everyone starts to have fun, the photographer and the couple. Elisa was great too, she came in with jokes and laughter to the rite of posing and shooting, like a voice-over.
These are always moments of lightness, where even feeling a bit frivolous and goliardic, the complicity of the couple is undeniably highlighted, and the shots can only come out spontaneous and natural. "Elisa has been an important element in creating a witty and ironic atmosphere, and the set has been thoroughly designed around the couple's style in order to represent them best."
Once back to Los Angeles, Erica and Marco concentrate on the organization of the next stop of their trip: New York! Five days for a trip with a capital T, a strenuous trekking here and there to discover, understand, see, experience and "stare at different people to catch each of their nuances." "I know it's rude to stare but I can't help it: watching closely attitudes, movements, and behaviors, helps me even more to fully experience my trip."
Upon their arrival in New York, our friends understand immediately what is the first difference with California: mild temperatures become distant memories. "That white thing that we see from the window is not fog, it's snow!" Off the plane, the situation is immediately clear: cold, and then cold again, and if that was not enough even a chilly wind blows them away.
However, the weather did not jeopardize at all the marvel of this city, of this tour in the streets seen a thousand times on television, surrounded by huge skyscrapers, with people rushing with big cups of coffee in their hands, the hot dog kiosks, the luxury boutiques, the smoking manholes, and white-collar workers flashing away like lightning.
"It takes at least 5 days to visit Manhattan" says Erica. "The Empire State Building, MOMA (Museum of Modern Art), Time Square in the evening, the Museum of Natural History, Central Park, the Brooklyn Bridge, Greenwich Village, Soho, Chelsea, not to mention the many restaurants of all kinds and nationalities in every corner of the city, all peculiarly designed."
"New York" adds Marco "is much more than one can imagine, because as you get in its throbbing veins you feel this vibrating fluid that gives the rhythm to the "City of the World" par excellence! The city of extremes: from vice to virtue, good and evil. In this place you feel like everything can happen, and that the whole world converges here in the end. "
When the 5 days are over, with tired feet, their lips wounded by the cold and their runny noses, Erica and Marco say goodbye to the United States, thanking the Country for the heterogeneity of emotions, the intense experience, the fleeting but unforgettable taste it has offered them. "Thank you especially for giving us this energy we didn't know we had, this vision of a future often clouded by our sometimes a bit gloomy "Latin" lifestyle."