Winter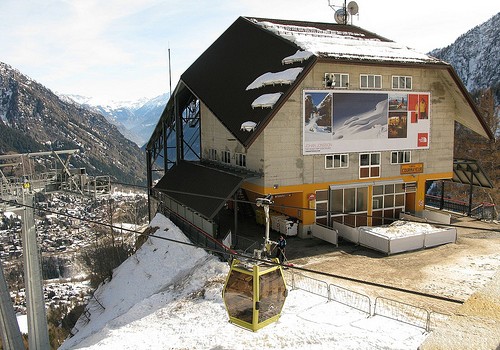 Published on November 3, 2011 | by Andrea Guerriero
0
Top ski resort in Italy: Courmayeur
Courmayeur, at the foot of Mont Blanc, is one of the best equipped and well-known ski resorts of Aosta Valley. The town, one of the oldest alpine ski areas in Europe, is called the 'Pearl of the Alps', thanks to the beauty of the landscape, dominated by Mont Blanc, the elegance of its buildings, the hospitality of its people…
Enjoying an exceptional view over Mont Blanc, and also perfect for family fun, the Courmayeur Mont Blanc ski area, offers 100 kilometres of slopes for winter sports, descending from 2,624 meters down to the valley of Courmayeur.
Those who like skiing or snowboarding, will find a variety of tracks between the woods and slopes facing the sun in Chécrouit and Val Veny. A cable car takes skiers to Checrouit Plan (1,709 meters of altitude) from which the ski lifts lead to the summits of Mount Blanc.
Artificial snow covers over 70% of the area, ensuring a quality snow on all slopes. In total, Courmayeur offers 29 ski slopes, for every difficulty level. There are 8 blue tracks for beginners, including Val Veny, Chetif, Tzaly; 17 red, intermediate tracks, with Comba Moretta, Dolonne and Youla, among others; finally, there are 4 black slopes in total, for advanced skiing, the main are Des Eves, Pista Dell'Orso and Rocce Bianche.
There are first-rate tracks if you go from Cresta d'Arp-Arp Vieille to Val Veny, along the desert Dolonne and Youla valleys up to La Thuile. Another good option is to take the cable car from la Palud, below the village of Entreves, up to Punta Helbronner – at about 3,470 mt, where you can access the famous runs of Valleé Blanche, down to other side of Chamonix or the Toula Glacier.
Those who don't fancy skiing, or want to try other sports, will appreciate the Courmayeur Sport Center, one of the best equipped and modern high mountain sports centers, open 11 months a year. Moreover, wandering in the centre of Courmayeur, you can enjoy elegant shops and boutiques, bars and restaurants.
Finally, if you are contemplative or gluttonous, you can indulge in a break, "doing nothing at all" on the terraces of the many mountain spots in the area.
Photo by Leo-setä