City Breaks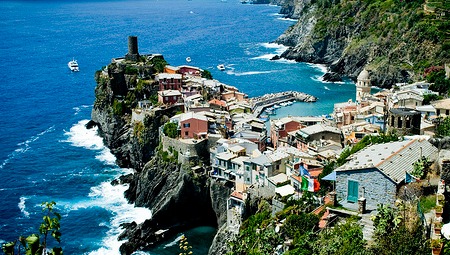 Published on January 18, 2011 | by Francy
0
The Way of Love: Valentine's Day in the Cinque Terre
The Way of Love is a wonderful pedestrian street that connects the villages of Riomaggiore and Manarola, in the Cinque Terre, Liguria. Overlooking the sea, the Way of Love offers beautiful landscapes to tourists and lovers who walk on it, in one of the most beautiful areas of the Ligurian coast, within the National Park of Cinque Terre, an area declared World Heritage Site by UNESCO.
The beauty of the places, the sweetness of the landscape, the brightness of the sea when the sun goes setting, have made this part of the path – a little more than a mile long – one of the most beloved by lovers of all the world.
The Way of Love is part of the path that connects all of the Cinque Terre, crossing the towns of Monterosso, Vernazza, Corniglia, Riomaggiore and Menarola. This is the ideal place to spend a Valentine's dream, surrounded by wilderness: the paved road, easy to follow, was carved into the cliff, a hundred meters above the sea.
It is dotted with benches to enjoy moments of passion, but also fun: on these benches, over the decades, lovers around the world have recorded their thoughts and epigraphs from poems of love as well as hearts pierced by Cupid's arrow.
And after the walk, you just have to take refuge in the restaurants, inns and hotels in Riomaggiore and Menarola where you will conclude your delightful day of Love.
Photo by g2nr