City Breaks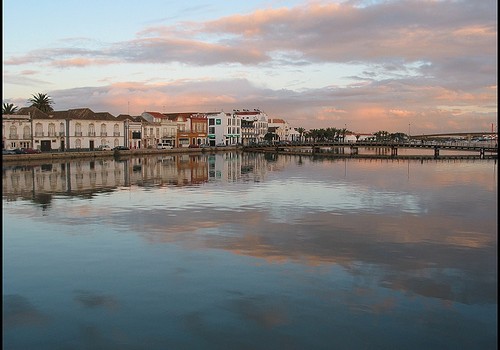 Published on July 18, 2011 | by Andrea Guerriero
0
The not to be missed activities during a short holiday in Tavira
The Algarve region – in Portugal – is a favorite holiday destination among international tourists, and is a perfect location for all types of travelers. Long golden beaches and red cliffs overlooking the sea, with large tourist resorts like Faro, Albufeira and Lagos; but the Algarve is also rich in picturesque villages where you can spend a vacation of all respect.
Very popular among the Portuguese is Tavira, a town at the center of the Algarve, overlooking the Gilão River and right within the Parque Natural da Ria Formosa. It is not yet well known from mass tourism, as for the nearby Faro.
If you're planning a holiday in the Algarve, Tavira is well worth a stop and if you have limited time and are not sure of what things to do when you arrive, here are some tips for a perfect weekend in Tavira.
A holiday here can be very relaxing, slow and quiet, to fully enjoy beautiful the sights of the town and its surroundings. To dive a bit in history, you may visit the Moorish castle, or the Roman bridge over river Gilão, but also some of the 37 churches scattered throughout the town – among the most important São Paulo and Carmo. Don't miss a visit to the old market, where you can buy local crafts, have a coffee in a nice bar or walk along the galleries.
The afternoon is meant to enjoy the seaside. The Portuguese say that these parts are the most beautiful beaches of Portugal, very clean and equipped with beach bars serving refreshments all day. For those who want to enjoy the sea, we definitely suggest an excursion at Ilha de Tavira (Tavira Island), one of several sandy islands that form the Parque Natural da Ria Formosa: this beach is accessible only by boat from the town dock and it is never too much crowded, but boasts good infrastructure and services of all kinds. Among the other best known beaches in the Area, even Barril, Cabanas, Santa Luzia, and Conceição.
The evenings in Tavira, finally, are made to delight the palate with some local dishes or locally caught fish at the restaurant. The nightlife in Tavira is quite lively, with family-friendly restaurants, bars and restaurants. A Ver Tavira and Mouraria are two of the most popular restaurants in town, right in the centre; Arch Bar mixes up some great cocktails, and is a top-frequented bar as well as The Poet, Patrick's and the characteristic UBI – located in a former tuna factory.
If this is not enough… Then you'll better extend your holiday here in Tavira, because the attractions and entertainment certainly don't finish here: Tavira is also sport, nature, hiking, relaxation, nightclubs and so much more…
Photo by zone41