Italy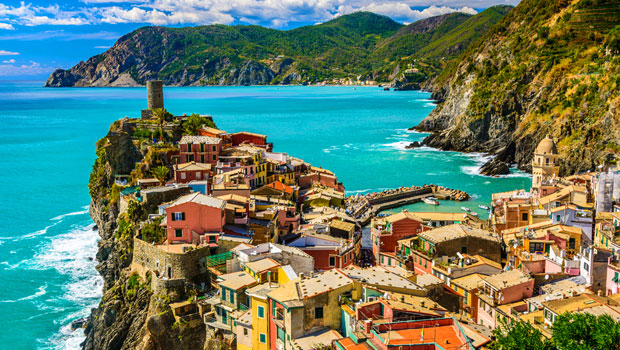 Published on October 24, 2016 | by Andrea Guerriero
0
The Enchanting Cinque Terre in Italy: A Guide
Italy is a treasure trove of history with many spectacular sights all around the country. Some of them are more known than others, but that doesn't mean they are any less significant. Rome (Colosseum, Pantheon and Roman Forum), Florence (The Duomo Santa Maria del Fiore Cathedral), Venice (St. Mark's Basilica) and Pisa (The Leaning Tower) all rank high among most popular tourist attractions. Some of the historical sights, unfortunately, will never be restored to their full splendor, but a glimpse into the past can be just as rewarding. Each of these place represents a stepping stone in Italy's history. Preserved for posterity, it gives an ample opportunity to enjoy for current and future generations.
One of the lesser known attractions is Cinque Terre. It is important to note, that Cinque Terre is not just one place. It is an area of land, located on the northwestern coastline of Italy, north of the Tuscan borderline. It consists of five towns: Corniglia, Monterosso, Manarola, Riomaggiore, and Vernazza. Cinque Terre literally means Five Lands.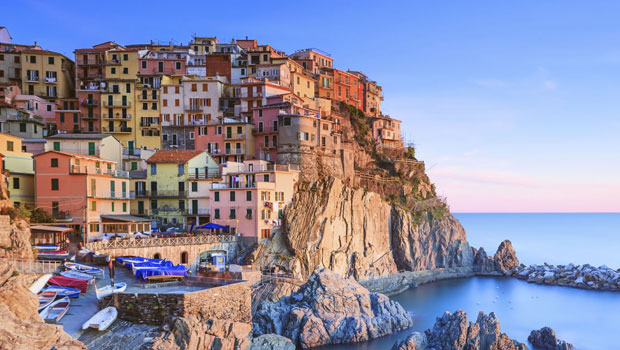 Geography of Cinque Terre
These towns, the Riviera and the surrounding areas all comprise the Cinque Terre National Park; it is also a UNESCO World Heritage site. It remains reachable by ferry and intercity trains that connect it with the main cities of Florence, Milan and Rome. Traffic is prohibited inside the villages as cars are not a part of Cinque Terres infrastructure. If you do intend to travel by car, consider leaving it in one of the nearby towns. Save yourself the aggravation of navigating little cliff roads by car. Even though some villages are within walking distance of each other, every village can be reached by train. So do not agonize over the choice of your main village, you will still be able to explore them at your pace. Mountains protect the park from severe winds and temperature drops, while the Mediterranean sea makes the winter a lot more bearable. The best time to visit would be from early spring to late autumn.
The villages of Cinque Terre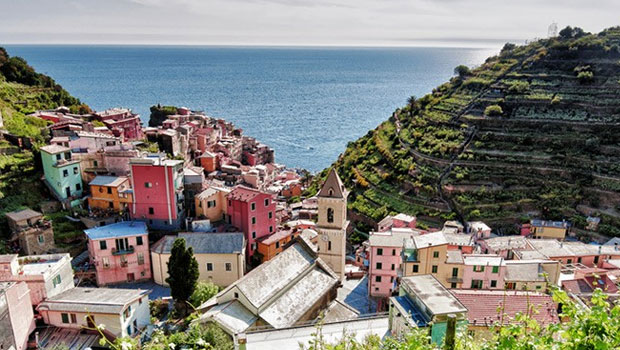 Going down from North to the South the first one is Monterosso, the biggest city of the Cinque Terre park. Many tourist pathways connect Monterosso with other villages in the park. Although, they are more suitable for rigorous hikes, rather than leisurely strolls. If you are looking for a large beach, Monterosso has you covered. It is called Fegina and has all the conveniences ranging from shower cabins to cafes. Another significant sight is the Statue of Neptune, a 12m (39ft) statue. It looks as if it was carved from the cliff. It holds up a terrace that was once used as a platform for dancing. Dawn Tower (or Torre Aurora, it acts as a separator between the New and the Old districts), the symbol of Monterosso. One of the few remaining fortifications. There are a couple of dozen of hotels, so picking a place to stay should not prove to be a challenging task. Verticality is not a cause for concern in the city, so expect many relaxed walks.
Next up is Vernazza, the most popular one. Not a lot of reason to visit Vernazza if you intend to swim. Only two beaches here, tiny at that. Car traffic is strictly prohibited, and it benefits the local ecology. Located on a cliff side, it paints a picture of a cozy Italy with a unique sense of comfort. Small streets; houses painted in attractive, summer colors; all hidden away from prying eyes. Home to Castello Doria and Bastione Belforte, a fortification that offers a pleasant panoramic view. Scaling the tower will provide you with a view of Vernazza in its full glory. The Santa Margarita of Antiochia church and Santuario di Nostra Signora di Reggio round out the religious architecture of Vernazza.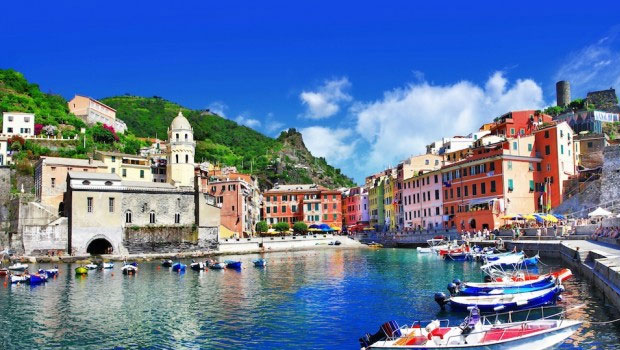 The third city is Corniglia, the smallest of them all but also the highest, located about 110m (360ft) above the sea level – impossible to reach by ferry. Your options are limited to trains and walking from nearby settlements. Local sights include Chiesa Di San Pietro, a 14th-century Gothic church. Home to an organ festival in summer. There is also a beach named Guvano, an elusive place. A popular nudist spot.
Our tour is then followed by Manarola, the oldest one. It is a one-street village, with differently colored houses. These houses attract undivided attention to them, but also, hidden away between the contemporary architecture are old buildings. Like the remains of the Manarola Bastion. You can visit Chiesa di San Lorenzo, a church with a Baroque/Gothic architecture. Another remarkable sight is Via dell'Amore – a pathway that is connecting Manarola and our last village on the list. Wine from Groppo and fishing are also the delights of local cuisine.
And we conclude with the suggestive Riomaggiore. Buildings stand on the ravine as if they were carved out of the cliff. Many hand-crafted terraces are floating above the coastline. The Cinque Terre park is famous for its hand-crafted terraces and hundreds of small mountain pathways to explore. Begin your journey from Via Colombo, the main street of Riomaggiore. Here you will find restaurants, shops and souvenirs. Local sights include the Church of San Giovanni Batistta and Castello di Riomaggiore – an old castle, local guides offer tours that illuminate Italy's past attached to this place.
The vision of easy-going lifestyle and a small commune lives strong in Cinque Terre. With exceptional local cuisine and wine, remnants of fortifications and well-preserved Gothic architecture there is much to see and do. The atmosphere of medieval times, with houses located on terraces, practically on the brink of falling. Small winding streets and staircases, going up and down the steep cliffs, restaurants with their traditional recipes of seafood and wine.
Yet you haven't experienced the true essence of the Cinque Terre until you've seen the five villages from the water. The perspective is entirely unique. Sailing the Cinque Terre is a magical experience. This trip demands some planning to do the get the most out of it.