Italy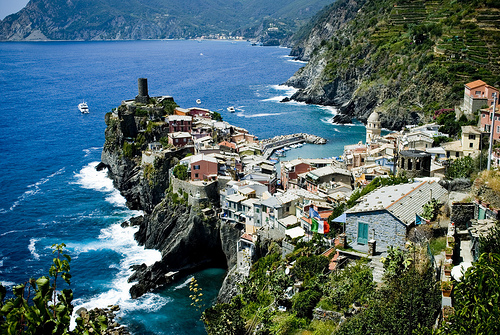 Published on June 17, 2011 | by Andrea Guerriero
3
The Cinque Terre, a Ligurian destination for Guests, not merely vacationers
The Cinque Terre– National Park and UNESCO World Heritage Site since 1997 – is one of the most pristine natural Mediterranean areas in the Tyrrhenian coast and the Ligurian Riviera. Five miles of rocky coastline enclosed by two headlands, five villages perched on spurs of stone dug by tiny inlets, the Cinque Terre are a kingdom of nature and wild scents, preserved as they were in the past.
Monterosso al Mare is the westernmost town of the Cinque Terre, standing behind lovely hills covered with vineyards and olive trees. In addition to a historical centre full of cultural attractions – such as the characteristic 'Carruggetti', the church of San Francesco, the remains of the Obertengo castle and a few of the 13 towers that encircled the village in the XVI century, Monterosso also boasts the presence of beautiful beaches, cliffs overlooking the sea and crystalline waters. The shore of Monterosso is the largest of the Cinque Terre and therefore the the town has a strong touristic vocation. For this reason, most of the Cinque Terre hotels are mainly concentrated in this area.
Vernazzais very interesting especially for the presence of ancient fortifications, tower-houses, the Tower and the Doria Castle, a symbol of its ancient economic importance.
Moreover, Corniglia stands out for the distinctive 'Lardarina', a long flight of 377 brick steps to be climbed by those who wish to reach the village on foot.
Riomaggiore and Menarola, as well as for the presence of some interesting religious buildings, are famous for being the starting and the ending point of the famous Way of Love, a romantic path cut into rocks falling sheer into the sea.
In addition to this, for those who enjoy walking, there is also a route that connects the five towns, the Sentiero Azzurro, which offers very spectacular sea and mountains views at the same time, about 15 kilometers long.
Further walking trails can be found on the hills and through the villages alike, but Le Cinque Terre also offers the opportunity to enjoy boat trips, visits to shrines, a delightful cuisine and top quality wines.
Here, time seems to stand quite still. This is a place for those who love pristine nature and do not expect all the comforts of a 5-star holiday. The Cinque Terre area has not undergone a massive building expansion. Viticulture, typical of the area, has helped to create a unique landscape, with characteristic dry stone walls along the hills overlooking the sea with bays, winding paths and enchanting small beaches between the cliffs.
The Cinque Terre have to be experienced this way, wandering slowly, slowly savoring the sights and scents, this land should be appreciated for what it is: quiet, friendly people who will give you the impression they don't care about your presence (only an impression, by the way!), but only because you won't be considered as tourists but as appreciated guests who are there to share an unspoilt corner of paradise.
Photo by Alex.T.