Summer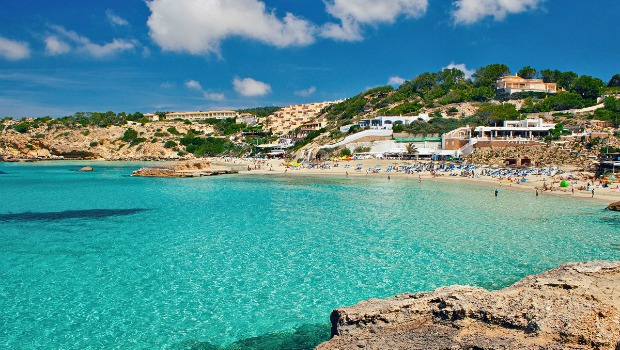 Published on May 30, 2014 | by Daniela
0
Enjoy early summer holidays in Ibiza
Thinking of Summer, thinking of Ibiza! The day-long party area of Ibiza is waiting for you. Summer runs May through October on this wonderful Island, with beautiful clear, sunny days and temperatures in the mid-twenties. And Ibiza has plenty to show you on your early summer holidays: beautiful beaches, enchanting countryside, history and culture… jump in!
Summer is for partying, spending warm evenings under star-filled skies, swimming in the crystal clear sea and living life on the beach.
But if you're planning your holidays in Ibiza, you ought to know that the first really warm beach days here begin in May, so don't forget to pack your swimwear, t-shirts and shorts and long-sleeves or light jacket for the evening. Whether you are here for nightlife or relaxation, you will find something to do.
Have fun at the beach, for example. Warm waters – ranging from 18ºC in May to 26º in August, and spectacular coastline make Ibiza a popular destination for divers, and ideal for all sorts of water sports. Playa d'en Bossa is the longest and most partying stretch of beach on Ibiza, dotted with cafés, restaurants and bars. However, if you are looking for a more low key retreat, head towards Cala de Sant Vicent instead, a small, surprisingly enough "relaxing" beach resort located in the east of the island.
By the way, visit Cala D'Hort. The beach is nothing special, but you shouldn't miss to see the famous rock of Es Vedra. Some 400 metres high, Es Vedra simply dominates the view out to sea. It's an official nature reserve, and lies some 3km off the coast.
Or, enjoy nature shows and take photos. Las Salinas Salt Flats are one of Ibiza's most famous landmarks. Situated on the southernmost tip of the island, these salt fields have been in use for over 2000 years. Especially in late summer, as the water evaporates under the heat of the hottest sun rays of the year, you can enjoy the wonderful view of sparkling layers of pure salt left on the bottom of the lakes. A beautiful spot for sunset photos, even in this period.
Of course, spend a day just wandering through Ibiza Town. The romantic Medieval castle, Dalt Vila (the Old Town), is a must see for all visitors to Ibiza. Later at night, enjoy a cocktail in the buzzing port area and see the best of Ibiza by night, with the many bars and clubs that make this place famous. Among the superclubs of Ibiza, Privilege alone has a capacity of around 10,000 people, Pacha is the year-round club, while Space has invented the concept of the day-club, where parties begin when the other clubs are kicking you out of the door at sunrise. Many of the nightclubs are already open since March.
A special feature of Ibiza is that even long after midnight, you'll find bars, cafés but also all sorts of boutiques still open and selling their wares.
And speaking of shopping, we've left the best for the end. A visit to one of the famous Hippy Markets is a must. The Ibiza hippy market happens on Wednesdays in Es Cana & Saturdays in San Carlos (Las Dalias). Here you can buy local crafts, ranging from exotic batik wraps and clothing to tailor-made leather moccasins and a tantalizing variety of East Asian silver jewels and trinkets, sold directly from hippies of the island. All this, amidst music and drumming rhythms, in an atmosphere that makes everyone… jump and stay cheerful: summer or not, you're in Ibiza, after all!