Winter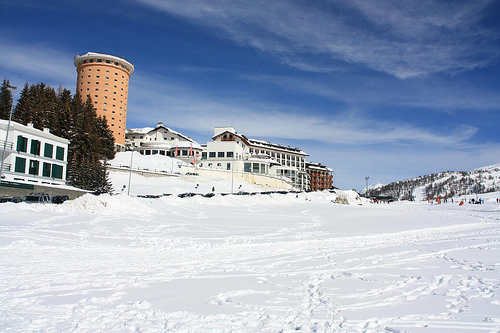 Published on November 8, 2011 | by Daniela
0
Skiing in Sestriere: Via Lattea 400 km of ski slopes
At an altitude of 2035 meters, Sestriere is located between two valleys, Susa and Chisone, an hour from the city of Turin, and is a part of the 400 km long Via Lattea, that is the "Milky Way" ski area, a connection of resorts in the Piedmont area.
The Milky Way includes Sauze d'Oulx, Sansicario, Claviere, Cesana and the French Montgenèvre. 400 km of runs with 210 trails, located on north-west facing slopes.
The Milky Way has 90 lifts serving the whole area, including several drag lifts, chair lifts, quads, and telecabins for up to 6 people.
In the entire Milky Way, about 116 km are blue-coded for beginner skiers, around 200 km of runs, making up 50% of the skiing area are for intermediate skiers and, finally, 84 km are black-coded slopes for experts, including also the mogul runs. There are many racing runs for expert skiers, such as Sises, which is a slope designed for the giant slalom, or Kandahar which was designed for downhill racing. Excellent opportunities also for night skiing and Snowboarding. Children can ski the Manovia area which is designed for beginners.
On weekends, the lines to buy tickets can get pretty long if there are crowds. So, if you can, choose a period during the week, so the lines are better and the slopes are not crowded due to the amount of runs available. Children under eight can ski for free when accompanied by a paying adult. Seniors over 60 and children under 12 are eligible for discounted passes. Passes more than six days require a photo.
Not only great for skiing, but also a gastronomic delight, Sestriere is the place to go for a great time of skiing, food and fun.
People who come to Sestriere and do not want to ski will find a variety of other options from which to choose. You can enjoy the fresh air, the hot sun and the gorgeous panoramic views in high height with the "Winter Trekking" lifts. At the base of the slopes it is possible to enjoy an outdoor ice skating rink, open daily and in the night time as well. Sestriere has many apres-ski activities available, such as restaurants, cafes and bars to the nightlife.
And what about some healthy shopping? Prices may be more expensive in this town, so be prepared, but shopping in Sestriere is a must-do!
Photo by raffaelesergi1977