Winter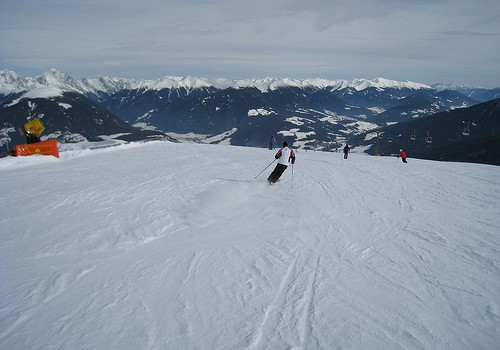 Published on October 28, 2011 | by Andrea Guerriero
0
Ski holidays in Plan de Corones: snow, fun, and novelties
The Plan de Corones holiday resort, also known as Kronplatz, in German, is the number one destination for those who like spending their holidays biking and hiking. Thanks to its ideal geographic location and direct access to as many as 3 protected natural parks of South Tyrol, the holiday region Plan de Corones, is considered the most popular among amateur and professional sportsmen. But now let's come to serious matters. Plan de Corones is a must for fun in the snow. And the winter season is just round the corner!
Ski runs, tracks for all tastes, ultra-modern facilities, Plan de Corones is not only the ideal ski resort in South Tyrol, but also the most modern one. 114 km of tracks and 32 lifts of the latest generation guarantee great fun on the slopes.
The shape of the mountain has allowed the creation of as many as 5 trails into the valley, between 5 and 7 km in length, and between 1000 and 1300 mt in altitude – data not very common in the eastern Alps. Also the concentration of black runs have no equal in the Dolomites: the area boasts about 26 km of slopes with gradients of up to 60%! Along the way there are plenty of equipment rental points of every type, so you can have everything you need.
There will be many novelties for the opening of the 2011/2012 season, to make your holiday in the snow even more enjoyable.
Ried, is the new slope and ski lift up to Percha, with direct connection to the train station. In addition there will be a ski pass ticket office available, a ski rental and ski storage.
A big innovation will be the "ski train". So you don't start your ski day in queue on the streets or car park searching at the valley station, the Plan de Corones offers the possibility to reach the slopes directly from the train station, as a train takes you straight to Percha's ski lift near Brunico, from where you can easily reach the slopes.
Moreover, two lifts have been totally renovated: the Miara gondola has been renewed with the installation of a modern cabin for 8, while the cabins have been replaced in that of Col Toron. Finally, to improve comfort and security on the slopes and on the trails, some of the Plan de Corones trails have been extended, particularly on the east side, on the Vigilius side, on the slopes Col Toron, Pre da Peres, Furcia 9, and Costa.
But attention: Plan de Corones holiday region is not only skiing: it means overall well-being for all, and for all ages. Therefore shopping, relaxation, sledding, cross country skiing, sleighs and horses… and let's put in biking and hiking too!
Photo by www messnerwirt com