Winter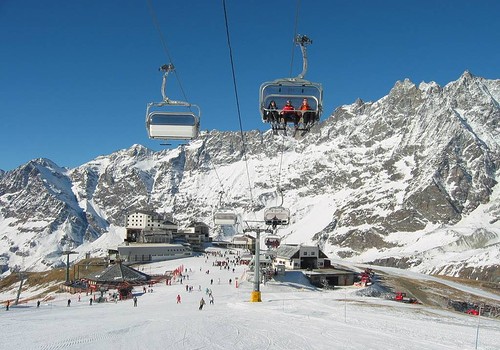 Published on October 26, 2011 | by Andrea Guerriero
0
Ski holidays: Cervinia slopes and lifts are opening
Snowfalls have already hit the Alps this year and the ski resorts are getting started for the upcoming winter season. One in particular is already on the starting line: Cervinia, which will open on October 29. Breuil-Cervinia, ski resort at the foot of the famous Matterhorn, is one of the first ski resorts to open this year, thanks to the Plateau Rosa glacier located 4000mt above sea level. Here the snow is present even in the summer, but after the months of summer skiing, the glacier is closed for a short break and returns to host skiers with the arrival of winter.
Due to the significant height of the area (2000-3500 mt), here the ski season usually lasts from November to May. However, at the beginning of autumn, snow has fell down to the centre of Cervinia. Thanks to favorable weather conditions, the ski area of Cervinia will open its doors on October 29, 2011.
It will be a partial opening, and you can only ski on the Plateau Rosa glacier (Swiss slope of the Matterhorn); however, weather permitting, there could be other openings in the early days of November.
An attractive novelty this year will be the new cable car Plateau Rosa. Its construction began in the summer of 2010 and now, after the finishing touches, it will be ready to start working. This new "futuristic" cable car is specially designed with large windows to ensure a splendid view during your ride up.
In addition to skiing, in Cervinia there are also other attractions worthy of note. Other places of interest are the Blue Lake, a small lake below the village, which reflects the Matterhorn, the giant of the valley; the Goillet Lake (2550 mt of altitude), which is an artificial lake closed by a dam that is used for the production of hydroelectric power and also for the production of artificial snow.
And finally, the Plateau Rosa (3550 mt): here you will enjoy a vantage point from which you can admire many peaks including Mount Viso, Mont Blanc and, of course, the Matterhorn. There is also a small museum with free admission which displays photographs and memorabilia on the history of Cervinia's lifts.
Photo by Leo-setä