Shopping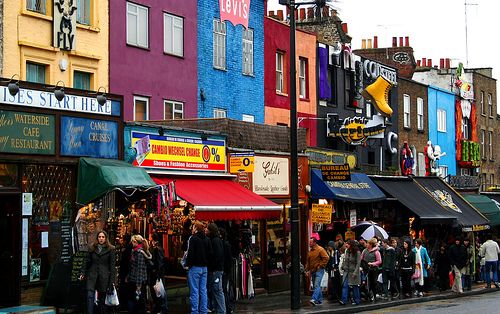 Published on February 2, 2015 | by Francy
0
Shopping in London: Camden Town, Portobello, Oxford Street!
Camden Town, Portobello, Oxford Street. So many ways to have shopping in London!
London is the ideal place for shopping after long days among museums, monuments and art galleries.
The city offers everything a common man could want, but it also gives everyone the opportunity to buy depending on your budget: the markets and the flea markets alternate to the ways of luxury and fashion boutiques. For simplicity, we draw the identikit of three different places where to have shopping, two market areas, Camden Town and Portobello, and a shopping street, Oxford Street.
Camden Town is in north London, in the namesake neighborhood. The area is very alternative, frequented by young people, students and tourists. In Camden Town, there are different markets, each with its own specialization. The oldest of these is the Inverness Street Market, a vegetable market very appreciated by local residents. The other market are grouped around the Camden Lock Market, which occupies a vast area along the Camden Canal. The Camden Market is the area of clothing packed by the same vendors; the Electric Market, in a covered area, is dedicated to the selling of clothing and vanguard fashion; the Traders Market offers a wide selection of military style clothing and accessories; in the Camden Canal Market there is the exposition of vintage jewelry; Stables Market, also indoors, is devoted to varies objects, ethnic crafts and modern antiques. Once finished shopping, it is possible to eat in good restaurants and discrete inns in the streets close to the markets, on Camden High Street, Chalk Farm Road and Bayham Street.
Look at our offers on hotels in Camden with rooms starting from GBP 35.
About Portobello so much has been written, but until you don't visit it in person you will have no idea of what it really offers. Portobello Road is a long street parallel to Kensington Park Road, in north west London, in the famous Notting Hill district. In Portobello there is everything. New clothing, second-hand and vintage, furniture, jewelry, trinkets, old and useless objects, music on any media type, by historians LP to CD, used and valuable books, multi-ethnic food and drink, clothing accessories, handbags and shoes, and whatever else we can think. Portobello is divided by zones and the association of dealers and antique dealers offers guides and detailed maps. In principle, within the station area of the Notting Hill Gate there are vintage and antique; in the Ladbroke Grove there is the clothing of young designers; in the Elgin Crescent especially handbags and shoes; in the Cambridge Gardens there are second hand clothing and accessories; in the Talbot Road everything about music. The Portobello Road Market has specific times: from Monday to Wednesday from 8 to 18; Thursdays from 9 to 13; Fridays and Saturdays from 7 to 19.
Oxford Street is far more than two miles: it starts from the west Hyde Park, from the intersection with the Park Lane, and reaches the east crossing the Charing Cross. This is probably the busiest street in London, with hundreds of windows, small and great, and stores such as Marks & Spencer, The Spa at Selfridges, Debenhams, Long Tall Sally Jaeger, Britain's Largest Fashion Store, Plaza Shopping Center. Oxford Street crosses other important streets for shopping in London, such as Regent Street, Bond Street and the same Charing Cross Road.
Almost like in Portobello, in Oxford Street it is possible to find everything, from the windows of shops to the stalls. In pre-Christmas period and seasonal sales, the road becomes almost impassable at any time and day of week. In Oxford Street there is no lacking of restaurants, clubs and pubs where you can sip a beer before resuming the journey.
See hotels near Oxford Street or all the available hotel deals in London and find out your flight to London!
Photo of  Camden Town by robinh00d