Festival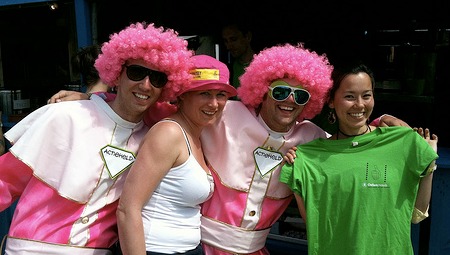 Published on May 1, 2012 | by Andrea Guerriero
0
Pinkpop Festival: the oldest annual festival in the world
Pinkpop Festival, or Pinkpop for short, is a rock festival held annually on the Pentecost weekend at Landgraaf, Netherlands. According to the Guinness Book of Records, since 1990 this is the oldest annual festival in the world. This year's edition, the 43rd, will run from May 26th to 28th.

The first edition of the Pinkpop Festival took place on May 18th, 1970, in Geleen, now part of municipality Sittard-Geleen, as a one-day celebration. Today, and since 1997, Pinkpop is a 3 day festival, running from Saturday to Monday, and organized at Megaland, in Landgraaf – a city located some 200 Km away from Amsterdam, near the city of Heerlen and situated in the most South bound province of Limburg, Netherlands.
The name is half Dutch, half English, in two possible combinations. In the first reading, 'Pink' may come from the Dutch word for Pentecost, 'Pinksteren' and 'pop' may stand for English 'popular music'. Indeed, the Festival is traditionally held on the Pentecost weekend. However, a later creative interpretation for the name, suggests the coupling of the English word pink with the Dutch word 'pop', which means doll; hence the logo, a doll in a pink dress!
More than 2 million people have attended Pinkpop since its very beginning. More than 500 musical acts have played at the festival. In 1994 it was decided to sell only 60,000 tickets, to prevent overcrowding due to the popularity of the festival. This could be a good hint for you to understand the proportions of this amazing event.
Pinkpop will be there, as every year, come rain or shine, with its astounding performances on three separate open-air stages, where Dutch and international musicians give their best to entertain their fans.
This year's line up includes artists of the likes of Kasabian, Anouk, and The Cure on Saturday 26th May; Keane, Babylon Circus, Racoon on Sunday 27th; James Morrison, Bruce Springsteen & The E-Street Band, and Blood Red Shoes on the 28th. And so many others!
Tickets are priced at 80 euros for a day ticket, or 160 euros for a weekend ticket – 3 days of festival including access to campsite, which are areas provided with toilets, hot showers, supermarkets, Information points, a camping store, a First Aid stand, cash registers and food and drink stands.
Pre-sale has started on March 10, and tickets are available online through www.ticketservice.nl. For Pinkpop 2012, 50,000 weekend tickets and 20,000 day tickets for each festival day are available.
Please note that one person can buy only 6 tickets at, for friends or family members.
Photo by oxfamnovib