Entertainment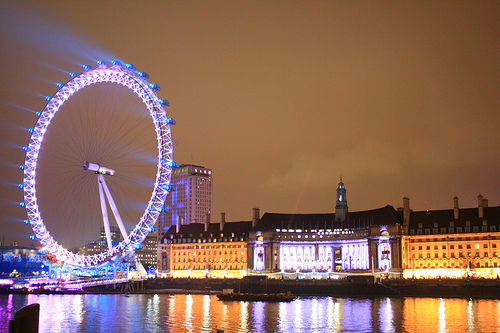 Published on December 19, 2011 | by Daniela
0
NYE in London? This is where the party's at
For those who are planning to spend New Year's eve outside, London is an excellent choice. It's not a secret that London parties are among the best in the World, so this is where the party's at when the clock strikes midnight!
Trafalgar Square is all fun and games but when it comes close to midnight, head down to Westminster Bridge to catch the Thames riverside explode in a colourful display of fireworks. in fact, the big event for New Year's Eve is the fireworks display at the London Eye on the South Bank. The display will start after Big Ben chimes midnight and will last for 10 minutes. The best spots to watch the fireworks are from Westminster Bridge and the north embankment of the River Thames, but they will be visible from across central London thanks to the installation of large screens.
As you would expect, tickets for London clubs are more expensive on New Year's Eve. Also be aware pubs often charge an entrance fee to try and control the numbers. Some ideas? IceBar London is hosting Keep Calm and Party On, tickets start from £39. Planet Hollywood has a "Boogie Nights" NYE menu with tickets from £50 per person.
If you wish to have an unusual dining, choose one of the many locations where great Gala dinners will be organized to greet 2012. From casual dining to gourmet meals, you will find a party to suit your taste. Our highlight is on the Medieval Banquet Party at Tower Bridge, where King Henry VIII looks forward to welcoming you along with his court, with dining, Midnight toast and disco 'til late.
And what about a luxury river cruise along the River Thames? This can be a romantic, rather than thrilling way to bring in the new year. Most will travel along a route that will show you the famous sites of London, including Big Ben, Albert Bridge, the Chelsea Bridge and the Millennium Footbridge. You can find boats that cater to any taste and tone, from wild energetic dance night theme to a more romantic elegant cruise for the night.
Then all you have to do is having fun and waiting for midnight. The countdown starts at 11:59:50, Ben is going to beat the 00:00 h. After the fireworks, and all the rest, bars are open, but most, collect admission ticket and so it is best to buy your tickets in advance. Free tube travel is usually available from 11.45pm till 4.30am. Enjoy!
Photo by scottx