Entertainment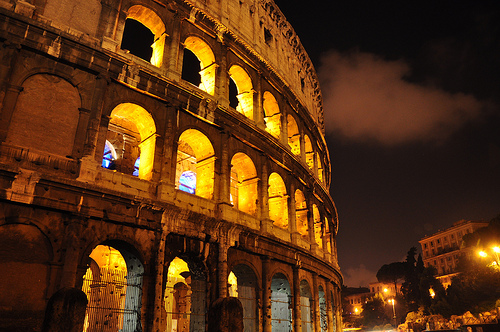 Published on December 12, 2011 | by Daniela
0
New Year's Eve in Rome: greeting 2012 in the Eternal City
The Eternal city is by now full of people restlessly hunting Christmas gifts and decorations, wandering between historic streets and Christmas markets scattered around Italy's Capital city. Christmas is a special moment almost all over the globe, but in Rome the feeling is even stronger, because of the high symbolic value of the Nativity in this city. Not to mention New Year's Eve …
In fact, another "custom" that is now entering the Capitoline tradition, along with Nativity Scenes and Christmas trees, is that of doing things in a big way on New Year's Eve. Also this year, Rome offers many ideas to celebrate 2012's arrival, in the best of ways and with lots of music, fun and… good food, of course.
Rome's traditional New Year's Eve celebrations are centered in Piazza del Popolo. Big crowds rejoice with classical & rock music, dancing and fireworks. The partying lasts well into the night. But there is also quite a bit going on around the Coliseum on Via dei Fori Imperiali where there's live music generally starting approximately 10PM and midnight fireworks.
For lovers of classical music, a not-to-be-missed is the delightful evening at the Basilica di San Paolo Fuori le Mura, where you can wish goodbye to 2011 enjoying an Opera concert.
If you prefer more contemporary music, and wish to enjoy the best of Italian music – performed by Italian artists famous throughout the world – you can opt for the Palalottomatica, where the world tour of Laura Pausini will make  stop, rather than the Auditorium Parco della Musica, where Claudio Baglioni will be performing, or Granteatro, where there will be Massimo Ranieri to accompany you to the appointment with 2012.
Of course, also the numerous and famous night venues in Rome are preparing to celebrate New Year's Eve in style. Discos like Royal Art Café and Ametista offer disco music and cabaret, while others such as the la Bòeme, or Spazio Novecento propose evenings with music, dinner and entertainment.
If you don't want to stick around one place only for the whole night, you can choose to dine at one of the many restaurants of Rome and then head towards Piazza del Popolo, other landmarks or one of the hundreds of clubs available.
As an alternative to the restaurant, we can suggest a new Year's Eve Dinner at a typical Agriturismo or in a suggestive location as one of the many Roman villas – including Villa Squisito or Residenza Castelverde – or why not, even in a castle! The Castle of Ponte Milvio offers, for example, Open Bar all night, dinner, piano bar, disco, and other surprises.
The rule for enjoying New Year's Eve in Rome is a similar rule applied to visiting any attraction in Rome: get there early to avoid disappointment. This includes also an advanced reservation at hotels and restaurant. To make your way back to the hotel the most comfortable and fast as possible, the metro will operate throughout the night.
Photo by Francisco Antunes