Entertainment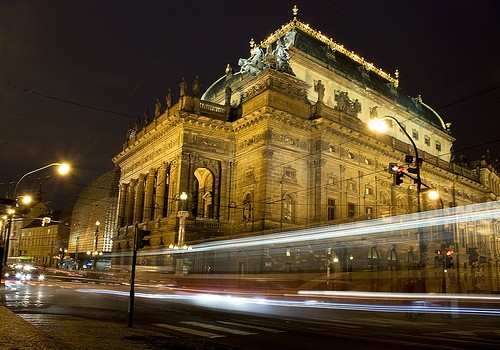 Published on December 12, 2013 | by Elena
2
New Year's Eve in Prague: a great party night
Prague is one of Europe's most popular New Year holiday destinations, as New Year's Eve in Prague is a great party night. The river boats, restaurants, bars and clubs are full of people, and the atmosphere is sparkling. As midnight approaches, revelers gather at the Old Town Square and by the river to watch the fireworks over the city.
New Year's Eve in Prague is one big party. The celebrations are enjoyed by one and all: the young and old, the quiet and romantic, the wild and carefree. There are entertainment options to suit all tastes.
You can choose to dine at a restaurant enjoying fine food, drinks and dancing. Or you can buy tickets for a party in a club or music bar. You can have a snack on your way to Old Town Square or head towards the ever popular Party Boat and Jazz Cruise, a charming New Year's Eve river cruise through Prague, with entertainment provided by a first class Jazz band.
The popular Party Boat and Jazz cruise is the first choice for serious party animals, as these offer front row seats to the fireworks display in the open air with all the features of a club. Others will flock to Prague bars, pubs and clubs. The Jazz Cruise has run for many years on New Year's Eve. It proves a very popular choice, and always sells out. So advance reservations are essential.
All the restaurants and river boats time their entertainment programs to coincide with the starting of midnight fireworks, some supplying bottles of Champagne for diners to celebrate with. As what is really important on New Year's Eve in Prague, is not actually what you eat or where you dance, but where you settle as midnight approaches, to watch one of most impressive firework displays in the globe.
Charles Bridge, Prague Castle, Petrin Hill and Old Town Square are popular spots to view the fireworks and soak up the electrifying atmosphere. Another option is Old Town Square. Definitely more adventurous, as large crowds gather in the square and many fireworks could be handheld and fired from people standing right by your side! On the whole it is safe, but only just!
All in all, when the clock strikes 24:00, the city explodes. It takes about eleven minutes: the sky turns into a colorful stage, champagne corks pop into the air, people wish each other a happy new year, the river boats hoot their horns, while crazy crowds keep on celebrating, until the first daybreak of the New Year.
New Year's Eve in Prague lives by the motto "Go big or go home", but don't worry about not being able to keep up with it. Prague is a terrific city for a New Year's Eve party, so we hope you enjoy it.
Photo by Martin__V