Guides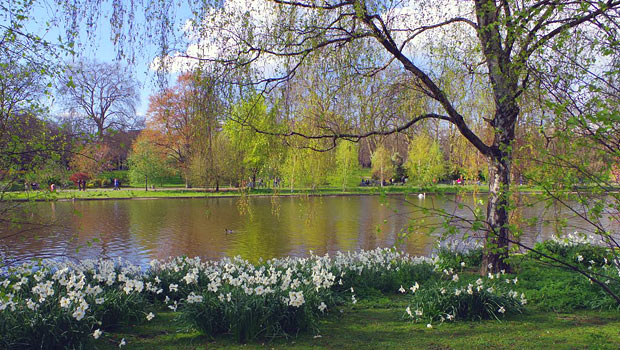 Published on October 25, 2013 | by Daniela
0
London's best parks and gardens
London is one of the largest cities in Europe, a huge metropolis virtually a stone's throw from your home. The city boasts such a large flow of tourists and businessmen, that booking flights to London, especially online, is easy and especially cheap, 12 months a year.
Indeed, the numerous hotels in London, are full of guests who are visiting the city for the first time, businessmen who arrive and depart several times a month, as well as couples, families and groups of friends who decide to come back to explore all the things they've missed the previous times.
However, it must be said that besides the great landmarks of the city, from the Big Ben toTate Modern, passing through Westminster, Portobello, Soho, Piccadilly Circus, and so on, what tourists and also Londoners enjoy the most of this city, is the recurring and extraordinary contact they have with nature. In fact, besides sparkling signs, skyscrapers and old palaces, the capital of the UK also has about 1,700 parks, including 8 royal parks, plus a number of botanical gardens, nature reserves and green spaces, all there to be explored or simply give a few moments of relaxation between a run and the other in the City.
It may be impossible to talk about all the parks in London, but certainly some of them absolutely deserve to be mentioned and consequently visited. To begin with, all the areas that were once hunting grounds for the British Royals, have now been turned into parks, characterized by impeccably manicured lawns, lakes and recreational facilities.
Among these, 8 in all, the biggest is Richmond Park, the former hunting ground of King Charles I. A thousand hectars and more through woods, parks and riverside pathways in the south west area of London, Richmond Park is the largest urban park in Europe, and is inhabited by deer and other wildlife.
Another famous royal park is Regent 's Park, an ancient hunting reserve converted into city park by architect J. Nash (1811.) The park is home to an outdoor theater, bars and restaurants, playgrounds for outdoor sports, fountains and rose gardens, but also hosts the historic London Zoo, one of the oldest zoos in the world.
Among all, the most famous park in London is Hyde Park, with the Serpentine Lake, the legendary Rotten Row, Diana's Memorial Fountain and the temporary exhibitions of contemporary art at the Serpentine Gallery. This park, as well as being a favorite for joggers, it is also a gathering place where demonstrations, royal ceremonies and outdoor concerts with internationally renowned artists regularly take place.
Moreover, at least two of the royal parks in London that is impossible not to mention are: Kensington Gardens, located at the end of the Serpentine lake, with the impressive Albert Memorial and the famous statue of Peter Pan; and the central St. James's Park, in the City of Westminster, a royal park par excellence, with its glimpses of Westminster, Buckingham Palace and St James's Palace.
It is interesting to note that despite a law dating back to 1851 has made these parks open to the public, by custom and to date, no one has the right, in theory, to use the parks, if we can visit them, it's just because the queen is doing us a favour! Even the eccentric mayor Boris Johnson has decided to offer more green space to his city, launching his Pocket Park initiative, which consists in the creation of at least another 100 small parks by March 2015, which will be added to the 180 square kilometers ( 11% ) of green occupying the Greater London area.
Finally, we just can't fail to mention the Kew Gardens (Royal Botanic Gardens), a World Heritage Site in Richmond, one of the most visited tourist spots in London as well as an important botanical research center, with more than 300 plant species that are not found anywhere else in the world!
Bird-watchers, however, can admire various bird species in their natural habitat at the London Wetland Centre, lost in the 320 hectares of woods, hills and meadows of the Hampstead Heath, or be lucky enough to spot herons and cormorants around the lake of Battersea Park.
A holiday in London will never be complete. There are so many things to see and do in Europe's most colorful, seductive and extravagant city, that you will always find a new reason why you should get back there. Even just to enjoy a hot dog sitting on the grass surrounded by one of the many green corners of paradise scattered among the City's historic buildings, unconventional museums and charming monuments.
Photo by Dinkum