Spain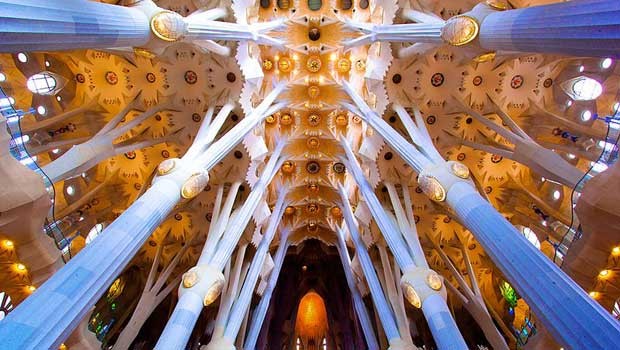 Published on May 23, 2011 | by Andrea Guerriero
0
La Sagrada Familia, Barcelona – The Most Charming WIP in the World
Who travels to Barcelona cannot miss a visit to the most charismatic symbol of this city, the most famous unfinished work in Europe, probably in the world: La Sagrada Família.
Its full name in Catalan language is Temple Expiatori de la Sagrada Família (Expiatory Temple of the Holy Family) and it is a big Catholic church, still under construction, considered the masterpiece of architect Antoni Gaudí, the greatest exponent of Catalan Modernism. The vastness of his project and his distinctive style have made it one of the major symbols of the city and one of the obligatory stops for mass tourism.
Among the general surprise and unavoidable controversies, last February the municipality of Barcelona has awarded the Sagrada Familia with the prestigious "Premio de Arquitectura y Urbanismo Ciudad de Barcelona". This award is given annually to the best project realized in the city during the previous year; in this case, what has been awarded is the successful completion of Gaudi's plans, deemed impossible for many years, so absolutely worthy of praise, although not exactly a 2010 work!
Even though only 60% complete inside – with the nave, the floor, the windows, the altar and its baldachin ready and waiting – the church has been consecrated by Pope Benedict XVI on November 7, 2010 and elevated to the rank of minor basilica.
In the past, and by some means also at present, any of those entering the Sagrada Familia – paying a 8 Euros ticket – leave somehow disappointed because of the visible incompleteness of the work. However, the charm of the Sagrada Familia is mainly this, and it should be appreciated simply for what it is: a symbol, an important symbol, of Spanish religiosity.
Its history dates back to 1866 (and will continue for many years, probably until 2026), when Josep M. Bocabella Verdaguer founded an association engaged, among other things, in the construction of a temple dedicated to the Holy Family. On the day of San José, Bishop Urquinaona laid the first stone of the Temple of the Sagrada Familia.
The religious symbolism is the main and most intimate essence of this Basilica. The Sagrada Familia is like an open book, which tells the everyday story of a Faith. Its stones, the sculptures, its sturdy exteriority and its silent inside are so dense of mysticism that you cannot feel all the faith and emotion that this work carries. The exterior of the Sagrada represents the Catholic Church: Jesus, Mary, the apostles and saints. The facades instead represent the human life of Jesus from his birth until death. Finally, the inside tells about the heavenly Jerusalem, inhabited by the Lamb, that is the Son of God.
What you will see and will surely surprise you, is the combination of modernism with the essence of religious architecture and Mediterranean culture: different elements that come together in one set, thus giving life to a unique work in the world.
Photo by ♀Μøỳαл_Bгεлл♂