Shopping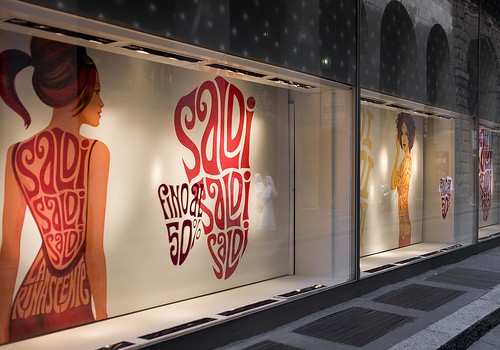 Published on June 27, 2011 | by Andrea Guerriero
0
Summer Sales in Italy: a Guide to wise Shopping
The summer sales 2011 will begin on July 2nd, exceptionally on the same day for all the cities of Italy. For those traveling to Italy, this can be a good opportunity for bargain hunting in the streets of the most famous cities for shopping, but be also careful about what to buy.
Summer sales will begin on July 2nd, 2011. Rome, Milan, Venice, Genoa, Florence, Syracuse, this year's sales start everywhere at the same day, except for the province of Bolzano – announced to start on July 8th, and the city of Trento, where traders can decide the dates for themselves.
Sales are a good chance to purchase things that are usually out of our budget, but for tourists, this can be a good value opportunity to take home some pearls of Italian outstanding fashion, known throughout the world for its unique and exceptional style. You can get very good stuff at a lower price, what a bargain!
Nevertheless, always try to beware of scams. Some traders could be artful and let you believe they are applying a discount when they're actually not, deceptions are just around the corner and we must be careful to avoid false deals.
So here are some pieces of advice to help you enjoy your shopping on summer sales 2011 in Italy.
The ideal thing would be to track the price of your favorite items before the beginning of the sales, and take note of their price tag. But travelers who are only by chance in a store for the first time, cannot follow this tip. Therefore we must pursue other strategies to avoid deception, especially if you are a foreigner!
Then be aware that the items sold during the sales must show-off two prices: the original price and the discounted one, accompanied by the percentage discount that has been applied.
The right to withdraw from purchase, is valid also during the sales period, with the requirement of exhibiting the sales check and a clear documentation of the found defects. Prices must always be clearly marked: distrust by those shops where you have to constantly chase the saleswoman to know the price of a garment.
So Wise up! Following these few simple rules, you too can enjoy the Italian sales. Come on, Summer has just begun! You have plenty of time to find your Italian"souvenir" of summer 2011! In Apulia, Molise and Sicily sales will last until mid-September, while in Campania you have time until early October.
Photo by angelocesare