Entertainment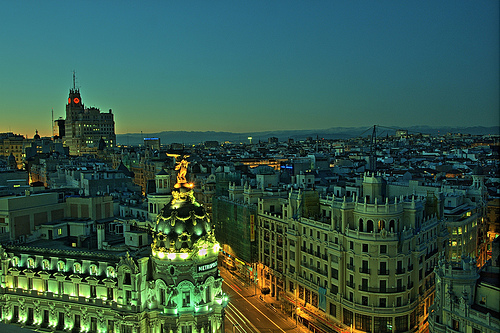 Published on April 5, 2011 | by Andrea Guerriero
0
How To Spend your Noche in Madrid
Madrid is a charming tourist destination also thanks to its vibrant night life. As well as in many Spanish cities, the liveliest hours of the day are those following lunchtime, when local and tourists start getting ready to enjoy "la noche".
If you're on holiday in Madrid, you are likely to sit down for dinner around 10pm. You can choose from tapas bars serving delicious local snacks – among which La Tapería de la Abuela has established itself as a must for the finest palates, to outstanding top rated restaurants – such as the historic Piñera, open also on Sundays, and Botín, which is the oldest restaurant in the world according to the Guinness Book of Records. After an easy meal, the night time fun is ready to begin. You can enjoy clubs, flamenco shows, improvised or not street gatherings and plenty of discos.
The best places to go for lively pubs, cafes and music bars include the Malasaña – mostly suited for very young clubbers – and Huertas, for all ages instead. Many spots offer live music and in the summer months the cafés bring tables and chairs outside shaping the famous Terrazas, such as those of Plaza de Dos de Mayo and Plaza Mayor, where you can enjoy very pleasurable moments in good company.
Flamenco is itself the essence of Spain and, in Madrid being the capital, you can find the best flamenco artists here. One of the best shows is to be found at Café de Chinitas in Calle Torija, near the Gran Vìa, which is one of the most famous Tablaos (flamenco restaurants) in the world. You can also see authentic flamenco performed at the oldest flamenco show restaurant in Madrid, El Corral de la Morería, located in Calle Moreria, a privileged spot in the heart of the city, next to the Royal Palace.
Malasaña, the Bernabéu Area, Argüelles and Moncloa – Ciudad Universitaria: these are all places where, as well as in many other neighborhoods, the fiesta does not stay exclusively inside the bars, but also goes to the streets. Evening entertainment includes spontaneous street theatre, classical and pop concerts or crowds of people just hanging out and having fun. On warm summer evenings the open air terraces of Paseo de la Castellana and Parque del Oeste are full of life.
If you wish to get in one of the exclusive discotheques in Madrid, be sure you look cool or trendy enough, otherwise they won't let you in!
The best or at least most famous discos are probably Joy Eslava and Palacio Gaviria (which organizes special nights for foreigners) – on Calle Arenal, the Empire in the Paseo de Recoletos, Kapital in Calle Atocha and Pachá in Barceló street. Reduced admission or free drinks are available at many of Madrid's nightclubs using the Madrid Card – you can buy a Madrid Card on line or directly in town, by going to the tourist information office in Plaza Mayor.
However you choose to enjoy your leisure moments in Madrid, once you get back home, its fuego will remain inside of you, and it will make you desire to return again and again to this truly amazing city.
Photo by felipe_gabaldon