Spain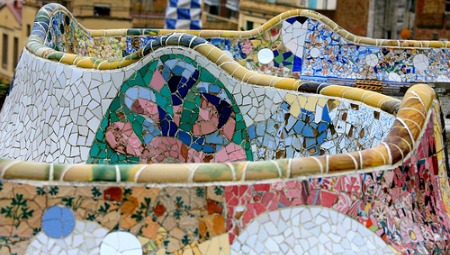 Published on April 11, 2012 | by Daniela
0
Gaudí's Barcelona: a Trip to Parc Güell
Named after Count Eusebi Guell, Gaudí's Parc Güell lies on a rocky hill overlooking Barcelona. It became a public park in 1922 and is a Unesco World Heritage Site since 1984. Its shapes and colors were inspired by natural forms which Gaudí, a devout catholic, saw as instances of divine craftsmanship…
So colorful, so joyful, and so unlike any other park in the world, Parc Güell, a true Gaudí Wonderland, is a must stop when visiting Barcelona, and the first stop in a tour of the artist's works in the city, ok the second – after the Sagrada Familia.
Parc Güell is probably the best and most famous example of Art Nouveau landscape-architecture. It was commissioned by Eusebi Güell, who wanted to create a stylish park for Barcelona aristocracy, there on what Gaudí described as 'the treeless mountain'. Both men intended that the project would express the spirit of Catalonia as a potentially independent nation.
The park is beautiful for its serpentine terraces, seats, galleries decorated with mosaics of broken ceramics, a unique Gaudí trademark. It contains amazing stone structures, stunning tiling and fascinating buildings.
At the entrance, visitors are welcomed by a grand dragon-like mosaic lizard, wonderfully adorned in beautiful coloured tiling, perfectly restored after the vandalism occurred in 2007. The vibrant colors of the tiles are still truly breathtaking.
Gaudí was strongly influenced by natural shapes, and used them extensively in his work. Walking in, you see a walkway supported by twisting rock pillars that seem to be growing out of the ground like tree trunks.
The park was planned as an underground market. A grand entrance, 3km of paths, a marvelous terraced area which enjoys a superb view over the park and the city, a stunning hypostyle hall, also known as the "Hall of 100 columns," whose roof is decorated with lovely mosaics.
It's generally overlooked that some of the best mosaics in the Park Güell have to be ascribed to Gaudí's collaborator, architect Josep Maria Jujol. These include the overhead medallions in the above mentioned hypostyle hall, and the multi-colored serpentine bench on the terrace.
Parc Güell also hosts a small house – La Torre Rosa – which Gaudí lived for the last 20 years of his life. The house has now been converted into a museum and contains interesting furniture designed by the artist, drawings and some personal objects.
Parc Güell is open daily: November to February from 10am–6pm; March & October from 10am–7pm; April & September from 10am–8pm; May to August from 10am–9pm. Admission is free, except Gaudí's home – well worth 4 Euros.
Photo by Alex E. Proimos