Festival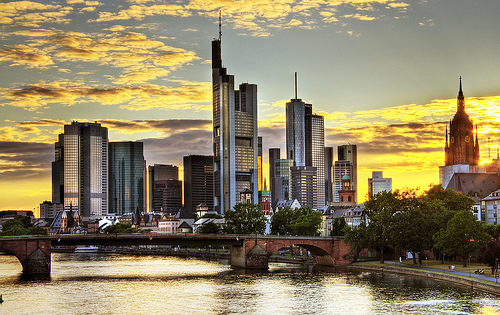 Published on April 19, 2013 | by Germanico
0
Frankfurt Wolkenkratzer Festival, the Skyscraper Festival
After six years since the last edition, on May 25 and 26 it will be time again for Wolkenkratzer Festival in Frankfurt, that is, the Skyscrapers Festival. For two long days, the 5 Km way in Frankfurt city centre, there where the highest skyscrapers of the city dominate, will be the stage for open-air shows and performances by street artists and especially athletes who will perform daring acrobatic flights from the tops of high-rise buildings.
During the days of the festival the skyscrapers will be open to the public: more than a million people are expected from all over Germany, who will strive to reach the top of the Messeturm – the Trade Fair Tower – of the 260 meters tower of the Commerzbank Tower, the Westendtower – Administrative Centre of the DZ Bank – as well as the Dresdnerbank skyscraper and Main Tower, with its magnificent 200 meters high platform. 18 skyscrapers in total will be involved in this initiative.
The business center of Frankfurt – the city is nicknamed Bankfurt, but also Mainhattan (from Main, the Main River, and Manhattan) or Big Äppel (always referring to New York, Big Apple, where Apple is declined as Äppelwoi, cider, the typical local drink) – will become a great outdoor stage on May 25 and 26, with shows and exhibitions by artists and performers.
After six years since the last edition Wolkenkratzer Festival, the Frankfurt Skyscraper Festival, will be a wonderful opportunity to see the city from a different perspective, a higher perspective indeed. The skyscrapers that will be open to the public are between 200 and 260 meters in height and are among the highest in Europe.
The Festival program includes performances and exhibitions both in the streets and… in the air. In fact, visitors will also have the opportunity to enjoy hot-air balloon rides to fly over the city centre and nearly touch the tops of the skyscrapers. Among the protagonists of the sporting events, skaters, climbers and acrobats will attend the Festival.
The whole area adjacent to Frankfurt skyscrapers district, will be set up with light installations, stages for concerts, theater performances and art exhibitions. Between a performance and the other, people participating in the festival will have the opportunity to go up to the skyscrapers' terraces and enjoy guided tours to admire the city skyline. The restaurants and panoramic lounges of the buildings will be open to the public for the occasion: tasty aperitifs are served at Maintower Bar and at 22nd Lounge, which is inside the Eurotheum skyscraper.
The Wolkenkratzer Festival is a rare opportunity to see up close the most modern and futuristic facets of Frankfurt, to celebrate the beauty of these steel and glass giants that make unique the city's skyline. As many as 18 skyscrapers will be open to the public including, for the first time at Wolkenkratzer Festival, the Eschenheimer Turm, a 50 meters Gothic tower built in the XV century.
Photo by Wolfgang Staudt