Festival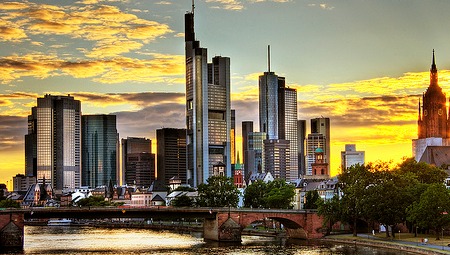 Published on April 10, 2013 | by Daniela
0
Frankfurt Skyscraper Festival: a Trip to the Top Experience
Located in the middle of the highly productive Rhine-Main region, Frankfurt am Main is Germany's fifth largest city, the financial heart of the European Union as well as a highly regarded cultural centre. Wolkenkratzer Fest, or Skyscraper Festival, is a two-days extravaganza where in the city, the party element takes precedence over financial issues. Let's say… the bright side of business!
The city of Frankfurt is often dubbed 'Mainhattan', because of its famous (and really striking) skyline of modern skyscrapers in the central business district. What is more, all these buildings are not only potent symbols of Frankfurt's economic strength, but actual architectural and historical landmarks of this lively German city.
It is precisely for this reason that next May, the city will put aside business for a couple of days and celebrate its skyscrapers with a huge, unique festival: the Wolkenkratzer Fest, to be held on May 25 and 26.
A great event, with great entertainment and great emotions. At least 18 skyscrapers, including the Main Tower, the Tower 185, Commerzbank, Eurotheum and many more, will be open for the public and will offer tickets for a "trip to the top" during this Skyscraper Fest. This great opportunity for "normal" people, that is, the general public, goes along with exciting street festivals, hot-air balloon rides, live bands on stages set up through the inner city and the skyscrapers, acrobats and street artists' high adrenalin performances, and of course, lots of food and drink stalls scattered in the city streets, where a massive fun fair will turn Frankfurt's banking district into a bustling party zone for two long days.
However, the uniqueness of the Skyscraper Fest is mainly due to the fact that this event gives participants the opportunity to take a look right inside office towers, and to enjoy the skyline and the surrounding region from high above ground level: definitely not something you can experience every day. All the light installations, concerts and art exhibitions, will be a joyful fringe to the already spectacular guided tours organized by the tourist office of the city, into the secrets of these glass and steel giants, which are usually accessible only to insiders.
You can order tickets to visit the participating skyscraper online, starting from April 24, on Wolkenkratzer Fest Homepage. Each person is allowed to order up to 4 tickets, and you will be asked to choose your building and your time, so be prepared, tickets are very limited!
Planning to partecipate in Frankfurt Scyscraper Festival? Find out the hotel in Frankfurt that suits you!
Photo by Wolfgang Staudt