Food & Wine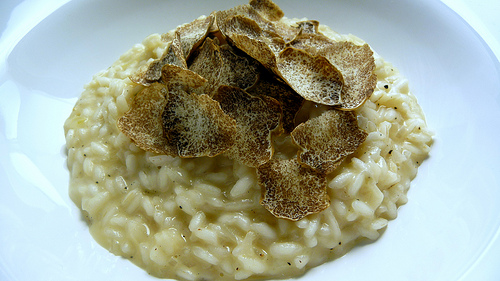 Published on October 17, 2011 | by Andrea Guerriero
0
Enjoy the Alba White Truffle International Festival
Truffles are known worldwide as one of the most sought after and luxurious delicacies ever. White truffles are by far the finest truffles, and in Alba, recognized in northern Italy as the Capital of the Langhe region, their coming into season is celebrated annually with the Alba White Truffle Festival.
This year, the 81st edition of the Fiera del Tartufo Bianco d'Alba opened on October 7th and will last until November 13th. The event includes a truffle auction (by invitation only), a truffle market and a truffle fair.
The Alba White Truffle Festival is considered a very big deal by food aficionados from all over Europe. Not only can you sample and buy white truffles, but you can also pick up other white truffle based products, such as truffle oils, cold cuts and much more.
This eminent festival takes place in the historical centre of Alba, in the beautiful backdrop of the "City with hundred towers", where Giacomo Morra (1889-1963), original owner of the most historical hotel of the city, the hotel Savona, and known by the pseudonym 'King of truffles', was artificer of the first marketing operation of the century, 'creating' the myth of Truffle, this important exhibition and the subsequent celebrity of Alba in the world.
The centre core of this edition will be the union between Alba white truffle and dried pasta, a new frontier in the exploration of food pairings.
There will also be many other innovations within the Festival, starting from "foodie Saturdays": sensory analysis' workshops that will allow the public to learn more about the best excellence products of the area, such as the "Tonda Gentile" hazelnut, the famous Piedmontese wines, local cheeses, and finally pasta, with the participation of important institutions dedicated to the promotion of quality food, including Slow Food Piedmont association.
Moreover, there will be a conference attended by the most important food bloggers of the national scene, a debate on the Communication of food in the internet era: "Pasta, truffles and 2.0: food and wine communication in the era food bloggers."
Finally, in the last week of November, the restaurants of the "Truffle Club" will offer menus inspired by the combination of Alba white truffle and dried pasta.
Of course, there are also many other reasons to visit this picturesque little town in autumn. While the truffles are the focus, the festival also includes a lot of entertainment, such as many concerts or the traditional "donkey race." If you tire of all the food based festivities, you can always explore the artistic beauties of the city or its surrounding hill towns with their scenic, historic castles.
Photo by Blue moon in her eyes