Winter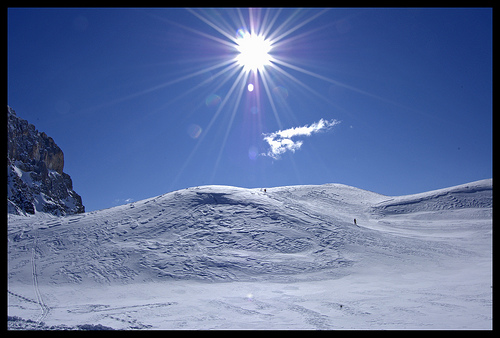 Published on November 7, 2011 | by Andrea Guerriero
0
Dolomiti Superski: cannons have already started shooting
The winter season is arriving, or maybe it's already here? Temperatures have dropped and heavy snowfalls have already covered the Alps with fluffy white snow. In the largest ski area in the world, the Dolomiti Superski, between the provinces of Trent, Bozen and Belluno, there is already the scent of hot chocolate and winter sports enthusiasts begin champing at the bit.
The mega ski area of the Dolomites offers something like 1200 km of slopes, half of which are connected without ever having to take your skis off. With slopes always in excellent condition and its Unesco world heritage landscapes, Dolomiti Superski is the essential destination for skiers and snowboarders from all over the world.
One of the first resorts to start preparing the trails in view of the upcoming ski season is the Val Gardena, who stealing a march on everyone has already given the go-ahead to artificial snow making machines for the programmed snow cover, in order to prepare the slopes which will host thousands of snow enthusiasts.
However, also other towns are already organizing the opening schedule for the 2011/2012 ski season. Most of the resorts will open next 26 November, including, among others, Cortina d'Ampezzo, Plan de Corones (Kronplatz,) and Val di Fassa-Carezza. As you can see, although the (snow) cannons have already begun shooting, the atmosphere is far from being warlike at the Dolomiti Superski.
The choice of opening (almost all) at the same time, highlights the climate of cooperation between the various sporting facilities, committed in putting on the same level the major ski resorts who can tempt skiers with anticipated openings. However, there will also be a few latecomers, slipping to the first weekend of the following month. December will open with Arabba/Marmolada (December 2), Trevalli-Moena/S. Pellegrino-Falcade and Val Gardena/Alpe di Siusi (December3) and finally the Eisack Valley (December 4).
And finally, please note that although cannons have started to shoot, the "bang" is only for the preparations. In fact, unlike many other ski resorts who wanted to surprise everyone with anticipated openings after the arrival of the first snow, Dolomiti Superski prefers not to challenge nature and engage in a more secure way to ensure skiers midwinter snow conditions and in total safety.
Photo by torremountain