Entertainment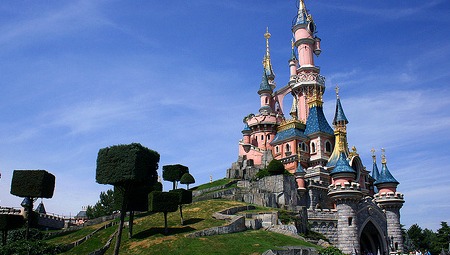 Published on March 15, 2013 | by Daniela
0
Disneyland Paris: attractions for children up to 7 years old
When a family with children goes to Disneyland Paris, they all find themselves catapulted into another universe. Suddenly the world changes and the fairy tale becomes reality: Alice is a real person and you can touch Wonderland with your very hand, Peter Pan in person takes you to Neverland and Aladdin comes out of the movie screen to make you visit the Magic City of Agrabah. Pocahontas' Indian Village is no longer a fictional place and the Castle of the Beauty and the Beast stands right in front of your eyes.
Disneyland Paris is the largest amusement park in Europe, it welcomes 15 million people every year, and is magically suitable for all ages. Here children have fun, but also adolescents and adults: there are rides, shows and recreational spaces for children, but also high-adrenalin rides for grownups. There are shows suitable for kids up to 8-10 years of age, but also incredible cinematic experiences best suited for teenagers and adults, such as the Imax movie theater.
This first post is dedicated to Disneyland Paris' children's attractions: amazing, extremely safe places where children up to 5-7 years old will have fun like they've never had before.
One thing must be pointed out though before we even start. It is unthinkable to visit Disneyland Paris in a single day. This applies to any tourist, from families with small children to those with older kids, but also for couples who want to enjoy a trip to this extraordinary place.
Which Themed hotel to choose?
To make the best of your Disneyland experience, it is advisable to book a room at one of the themed hotels located within or near the amusement park. You can choose between the luxurious 4-star Disney's Hotel New York – in perfect NY-style; the 3-star Disney's Sequoia Lodge – inspired by the great American national parks; rather than cheaper hotels like Disney's Hotel Cheyenne – that evokes the atmosphere of the Far West, the Tex-Mex style Disney's Hotel Santa Fe, or Disney's Davy Crockett Ranch – with bungalows set in a very rustic and adventurous environment.
There are also other hotels near Disneyland Paris, always characterized by particular environments, although they're not exactly Disney-style hotels. The 4-star Vienna International Magic Circus Hotel offers a circus-style atmosphere with clowns and acrobats, the Radisson Blu Hotel is very close to Disneyland's golf course, while the Vienna International Dream Castle Hotel will catapult you into the magical world of Old Europe and the Three Musketeers.
Once you've got the keys of your room, just go and enter the wonderful world of the amusement park.
Tips and tricks to help you get the most of your Disneyland trip
The first thing children want to do as soon as they get in the gates of Disneyland Paris is talk to Mickey Mouse. Finally, the most popular Walt Disney character is no longer just a picture on a magazine: he is real! You can laugh with him, hug him and even take pictures with him. To make this wish come true, parents must check in advance on the Disneyland Paris website: indeed, the meetings with Mickey, Minnie, Pluto, Winnie the Pooh and all the other characters, are all scheduled at specific times and places.
With regard to attractions, children up to 5-7 years old will only be spoiled for choice. Check again on the web site and take a look at the useful route proposed, which covers the two-day visit. However, it may be impossible to explain your excited kids that the phantasmagoric attraction you're just crossing is scheduled for another time. So resign yourself to the fact that you will change your plans en route: in short, seize the moment and let your children decide.
The topography of the amusement park allows you to plan your visit with ease. Disneyland Paris consists of 5 major areas: Frontierland, Adventureland, Fantasyland, Discoveryland and Main Street. Here are the most suitable attractions for children up to 5-7 years old in each area.
Frontierland & Adventureland: meet Pocahontas e Aladdin
Within Frontierland, the main attraction for this age is the Indian Village of Pocahontas, a playground with safe climbing structures which is a reproduction of the village where the Algonquin princess lived.
The "imaginary place" called Adventureland hosts the Pirates' Beach – a swashbuckling playground area for little shipmates; Le Passage Enchanté d'Aladdin, with the city of Agrabah, where Aladdin and the Genie of the Lamp live; and Captain Hook's Pirate Ship – where Peter Pan duels with Captain Hook while Wendy is about to be thrown in the water (there's a strange Tic-Tac noise is in the air …).
Fantasyland: have fun with Peter Pan, the Sleeping Beauty and Dumbo
However, Fantasyland is definitely the imaginary world in which little ones can find lots of attractions to suit them. Peter Pan's Flight is a place where you will fly over the skies of London and to the magical and enchanting world of Peter Pan, Wendy and Tinker Bell. In Alice's Curious Labyrinth you can walk around the Wonderland Maze, with the White Rabbit, the Mad Hatter and the Queen of Hearts ready to cut off heads.
Le Château de la Belle au Bois Dormant is one of Disneyland Paris' most beautiful attractions, as well as one of the most visible: the castle towers over the park and within it, everything is magic. The Mad Hatter's Tea Cups and Dumbo the Flying Elephant are two classic rides for children: the former is a spinning tea cups party ride, while the latter consists of flying elephant vehicles that rotate around a central point, rising into the air as they go.
Fantasyland also offers other attractions for children. Le Carrousel de Lancelot is a nice carousel-style ride, very romantic (for girls) as well as … chivalric (for boys.) Le Pays des Contes de Fées features miniature landscapes of the most beautiful scenes from Walt Disney Classics, and finally, Le Petit Train du Cirque is a ride on the lovely circus train of Dumbo's story.
The magical world of Discoveryland
Within the enchanted Discoveryland, kids will have loads of fun at the Buzz Lightyear Laser Blast, where they can fire laser beams against Buzz's enemies, or they can pilot a spaceship designed in the 1800s by visiting Orbitron. But surely enough, they will look forward to driving 1950s style cars on the miniature motorways of Autopia.
Main Street: gadgets, souvenirs, and scale models
Last but not least: the moment that all parents would like to avoid, but sees them protagonists instead! And not only because they are likely to consume their wallet, but also because they themselves will be amazed by the many wonders they will discover.
We are talking about the imaginary town Main Street. This is the faithful reproduction of an early 1900′s small town, with a large central avenue lined with gadget and souvenir shops, as well as restaurants and eateries. The road is full of vintage cars and horse-drawn carriages. Main Street can also be a learning experience, thanks to Discovery Arcade, which features scale models of some of the 20th Century's greatest inventions.
With your shopping spree in Main Street, your Disneyland Paris adventure comes to an end. Now you just have to leave the park and wait for the moment when your kid will realize that the party is over. That's when the problems start for moms and dads. But we guess that's part of the game, too.
Photo by wrayckage