Top 10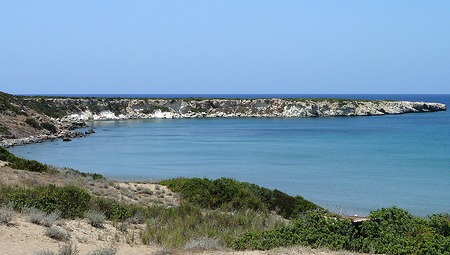 Published on May 18, 2012 | by Elena
0
Cyprus travel guide: 5 things you shouldn't miss out
Pretty villages to explore and great food. Cyprus (officially the Republic of Cyprus) is the third biggest island in the Mediterranean sea, blessed with a mild climate and a rich natural heritage, that we can enjoy (of course without spoiling it) all year round, along with a plethora of outdoor activities and exciting things to do. Here is our Cyprus travel guide with a list of the 5 things you shouldn't miss in order to make the most of your holiday.

The Akamas Peninsula – for nature lovers
A lovely area close to Paphos and excellent for swimming, cycling and walking. Explore the Akamas peninsula, perhaps on a mountain bike: this is the last coastal area in southern Cyprus to remain untouched by development, with many trails to explore such as the popular Aphrodite and Adonis Trails.
Neo Chorio and Peristerona – typical villages
A real taste of genuine Greece (although Cyprus is an indipendent country!) with old houses in traditional stone and old ladies still sitting on their door step weaving in the traditional way. Don't miss a trip at Peristerona gorge, with its spectacular views and great for scrambling; the village also treasures the Evretou dam – the largest rock-fill dam in Cyprus.
Wineries – "taste" the pride of the Mediterranean
Vasilikon winery at Kathikas, Kolios winery at Statos Agios Fotios near Panagia, Vouni winery at Panagia, Ezousa winery in Kannaviou, Tsangarides winery in Lemona… The history of winemaking in Cyprus is very old, one of the oldest in the world, and today the Cypriot wine industry ranks 37th in the world in terms of total production quantity.
Beaches – high value tourist assets of Cyprus
Visit the lovely beaches and enjoy swimming and diving in the crystal clear turquoise blue waters of the island – more than 50 have been awarded the Blue Flag eco-label. Nissi beach is one of the most popular, while Lara beach is generally less crowded but wonderful. Golden (Protaras and Ayia Napa), or dark sand (Larnaca beach), pebble or rocky, natural or improved, well organized and dotted with luxury hotels (Limassol) or completely isolated (Lara coast,) Cyprus offers beaches to suit every taste.
Fly to Nicosia – the beating heart of the Island
Nicosia, the Capital City of Cyprus, is home to the Cyprus Museum, the island's top archaeological collection, and among the best in the Middle East, which hosts Bronze Age artifacts as well as several items belonging to every era from Stone Age to Byzantine is represented. Admission: €3.40. Narrow streets and old houses with ornate balconies, and craftsmen in small workshops unchanged for centuries, blend with all the modern facilities you would expect from a Capital city – excellent hotels, restaurants, nightclubs. There are plenty of things to see and do in Nicosia: a day here will be a day well spent.
And a holiday in Cyprus is what you need to be adding to your life another sensational experience!
Photo by Isbardel