Europe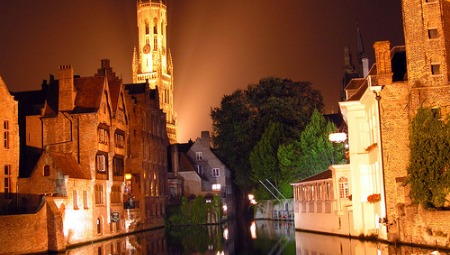 Published on December 8, 2010 | by Francy
0
Bruges, a romantic open-air museum
Bruges, amazing city in West Flanders, is a UNESCO World Heritage Site since 2000. Completely surrounded by canals, the Reien, Bruges preserves its original medieval architecture, well-rendered in the ancient church of Our Lady, in Gothic style with a bell tower of 122 meters, rather than in the Town Tower of the XIII century with a 47-bell carillon.
As well as anywhere in Belgium, also in Bruges there is the Beguine (Begijnhof), a small neighborhood of houses once used by lay religious who dedicated themselves to God and neighbour without taking vows. Other interesting landmarks in the city include the Basilica of the Holy Blood (Heilig-Bloedbasiliek), the old hospital of St. John, with works by Hans Memling, the Groningemuseum with collections of works by Bosch.
However, Bruges is also more, a truly enchanting place with historical streets, boat trips on the canals, coach tours around the city, flowers on the windows and an air of romance that permeates the whole city. Lake Minnewater is considered by locals and tourists an oasis of peace, where families and couples can enjoy moments of leisure and relaxation.
Bruges is universally defined as a 'romantic open-air museum', as it spreads a sense of calm, among twines and laces, antique markets, shops selling sweets, pralines and chocolate.
There is no shortage of lively moments with the music festivals, processions and of course the historic pubs. Belgium produces over 600 different types of beers, including the legendary brands Stella Artois and Leffe. Finding a hotel in Bruges is not difficult, but even for a trip in spring it is advisable to book in advance.
Photo of Bruges by artorusrex