Europe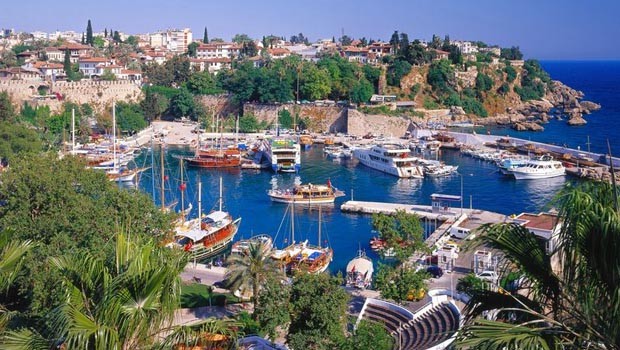 Published on June 2, 2011 | by Andrea Guerriero
2
Antalya – 300 days of sunshine a year
Sheltered by the Taurus Mountains on one side and washed by the Mediterranean on the other, the region of Antalya has become in a few years one of the major tourist destinations in Turkey.
The Antalya region enjoys a pleasant mild climate. It is said that here the sun shines 300 days a year and, even in winter, the thermometer rarely falls below 15 ° C. The bay of Antalya offers a number of seaside resorts greatly appreciated by the German and Russian travelers.
This success is due to the magnificent beaches of sand and pebbles, crystal clear seawater and modern tourist infrastructures and facilities. Vacationers will find a relaxing environment and bespoke services. Sports fans will enjoy a wide range of water sports and pleasurable hiking, golf, or climbing activities.
Establishments for tourists are mainly scattered along 150 km of coastline across the city, with direct access to the sea. In Side, you will enjoy 10 km of beach, always crowded and where fun is assured, while quieter beaches are near Sorgun or Kumboy, which offer a more intimate atmosphere.
In the summer, although a bit soggy, Antalya is beautiful for bathing and for practicing sports activities such surfing, water skiing and sailing, but also diving, paragliding and much more; however, in winter the climate is mild enough to enjoy hiking and beautiful walks. Do not miss the exciting Koprulu River Rafting, and hiking to the waterfalls of Duden.
Besides being the main seaside resort in Turkey, Antalya is a city where it is nice to walk and enjoys a charming, central location in the bay. Its large public parks full of palm trees, its marina –Yat Limani – and its Roman walls, give it a definitely Mediterranean charm. In the old, picturesque district of Kaleici, walking through narrow streets, you will find some old wooden houses leaning against the walls of the city, dating from the eighteenth and the nineteenth centuries and transformed, for the needs of tourism, in pensions or souvenir shops – where you can buy lucky eyes, local specialties, spices.
And then, in the area around the city of Antalya, do not miss a visit to Aspendos, near the village of Belkiz, with one of the best preserved ancient theaters, where every year in October, is held a popular music festival, the Akdeniz Akdeniz ("Mediterranean Mediterranean") boasting the presence of many renowned Mediterranean artists. Finally, the resort of Side – whose spas are highly conserved and very popular among tourists – is an open-air book of history, which fans of the genre will surely appreciate.
Photo by Senol Demir