Exhibitions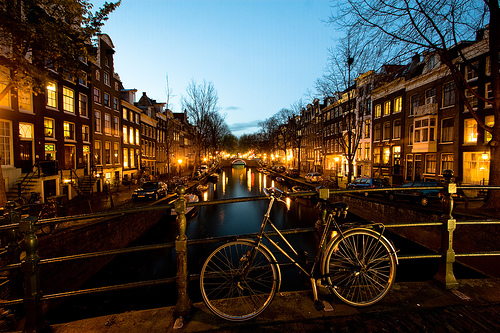 Published on October 10, 2012 | by Daniela
1
Amsterdam Events in October
October is a wonderful period to visit Amsterdam. As the summer crowds are gone and a sense of normality returns to the Dutch capital, what is known as a year-round tourist destination, is no longer that jam packed city that makes you feel like you are trapped in a herd, but rather becomes a charming city, perhaps a bit rainy, where you can spend your time in a thousand ways.
Peak travel season is over, so airlines and hotels return to their off-peak rates, if you book in advance or last minute, it will be easier for you to book a cheap hotel in Amsterdam to enjoy your autumn holiday in the city. Even just walking along the canals at sunset and watching the outdoor scenery can be a fascinating experience in this period – although this is usually the period when museums fill up as people begin looking for indoor activities instead.
October opens the cultural season in Amsterdam, with performance venues offering a wide variety of theater, music and opera, dance productions and more on offer. October is also an eventful period in Amsterdam, with regular parties and festivals that can cheer up even the most gloomy autumn days and capture the curious.
In mid-October, for example, since 1975 the city has held a major marathon – the ING Amsterdam Marathon, around 25,000 participants – that starts and ends at the Olympic Stadium, about 2 kilometers southwest of Leidseplein, crossing the Heineken Experience, Museumplein, and Vondelpark. If you want to catch a glimpse, head toward these venues and enjoy sports, culture and open air all in one!
Moreover, the Amsterdam Dance Event (ADE) – mid to late October – is two events in one actually. It mainly consists of a 3-day conference that brings together industry professionals with important people in the world of dance music. On the other hand, the evenings are cheered up with a festival that involves over 40 of Amsterdam's nightclubs with dance parties by the best DJs in the world.
If you missed Oktoberfest in Munich, there's still time to enjoy a beer festival in Amsterdam, why not? Bokbierfestival is held by the end of the month in the former stock exchange building Beurs van Berlage, Damrak 277, between Dam Square and Centraal Station: here you'll find more than 50 different seasonal autumn bocks made by all the major breweries including Heineken.
Finally, the annual film festival Africa in the Picture is set to return from 19 to 28 October 2012, with the aim to get African stories back into the cinema, by representing not only the continent of Africa but also its communities and legacies throughout the world.
Useless to say, there's no shortage of things to do in Amsterdam. October happens to be the wettest month of the year, but don't worry a lot about that, because a hat and a jacket are enough to remain comfortable. Amsterdam offers plenty of indoor diversions year-round, including the ever-popular canal cruises, shopping for souvenirs, or the city's nightlife itself. And, in my opinion, the best way to start and end an autumn trip to Amsterdam, is sitting near a window at one of its quaint cafés, order a cup of hot chocolate with whipped cream and just watch the world go by.
Photo by Éole