Winter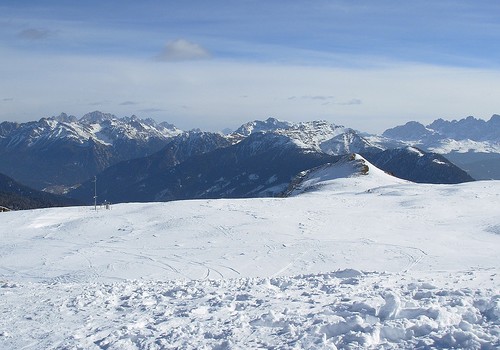 Published on December 1, 2011 | by Elena
0
Alpine winter destinations: Rosengarten-Latemar for your ski holidays
The holiday region Rosengarten-Latemar, is located in the southwestern area of the Dolomites and includes the towns of Nova Levante, Nova Ponente, Monte S. Pietro, Obereggen, Ega, Carezza, Tires, S. Cipriano and Collepietra. This area, which for its beauty and the richness of its ancient history, was declared by UNESCO a Natural Heritage Site in the summer of 2009, is home to some of the most famous sights of the Dolomites, such as Lake Carezza, unique in the world for the beauty of its colors, or the imposing peaks of the Latemar (2752 mt), or the Rosengarten (2981 mt).
For mountain lovers, families and sportsmen alike, the Rosengarten-Latemar area is an ideal destination to spend relaxing, fun holidays! The whole area is very popular with hikers and climbers. Those who prefer mountain biking and horseback riding will discover the magic of these timeless landscapes. Golfers will undoubtedly appreciate the Golf courses in Monte S.Pietro and the Costalunga Pass.
In winter, the Rosengarten-Latemar is a real paradise for skiers. The tourist area is divided into two main resorts: 50 km of ski slopes, 90 km for cross-country and 17 lifts at the Ski Center Latemar, where you can ski also at night; and 15 ski lifts, 40 km of ski runs, and 32 km of cross-country skiing at the Ski Area Carezza – Nova Levante, also including easy runs for beginners and children, who will enjoy the magical Kinderland "Re Laurino";
If you are keen on snowboard and freestyle, then head towards Obereggen, at the foot of the Latemar. The Snowpark Obereggen is a must for enthusiasts of the genre: this year you can get even more as the park has been enlarged, and now includes easy and medium lines composed by 5 sequential tables, the mega 16 mt kicker and a brand-new woodline. Of course this place is also suitable for the less adventurous and families with children, who will have the opportunity to stay in close contact with nature.
Intense green woods, pastures and sun-kissed peaks amid the Rosengarten, Latemar and Scillar, which offer some of the most beautiful panoramas in the world. The characteristic dolomite stone, gives wonderful sunsets in all shades of pink.
The Rosengarten-Latemar area also offers a small but significant historical and artistic heritage, witness that these valleys were populated since ancient times. The numerous medieval chapels near Nova Levante and Tires contain real treasures of art, besides enjoying a great view. And how not to mention the Thurn Castle in Nova Ponente, home to an interesting Museum.
Photo by Adam Zajdzik