Europe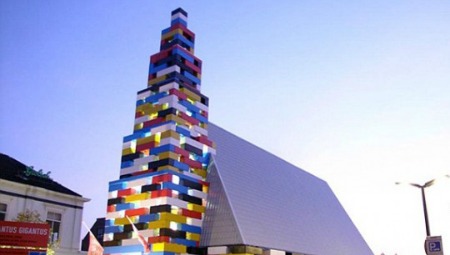 Published on March 12, 2012 | by Francy
0
Abondantus Gigantus: a colorful Lego-church
Its name is Abondantus Gigantus, almost a mythical term, and it was built in 2011 for the Grenswerk Festival, in the town of Enschede, the Netherlands. The whole building is made up of concrete blocks that are very similar to the famous Lego bricks. Far from being Lego-land, though, we're actually talking about… a colorful Lego-church!
Created for the GrensWerk Arts Festival last year, the whole structure of the Lego-inspired Church, including a 20m tall spire, was constructed using concrete blocks similar to Lego or Duplo bricks, except the roof. The blocks were painted in the same five primary Lego colors that the Danish manufacturer uses on its basic sets.
Its creators were visual artist Filip Jonker and Project.DWG Architecture, aka Loos.FM. They searched for a recognizable building that would stand out in the city; the oddness of proportions only works if the image is recognized. Therefore, the choice fell on a church.
The pavilion makes a connection between something grand and overwhelming (the church and its size) and something playful, simple and comprehensible (Lego), they say.
Actually, the church was not really a church. Although a mass was celebrated there at one point, the building was mainly created as a public venue designed to celebrate all sorts of events, from town meetings to raves, up to Lego building contests. Virtually anyone could make use of this colorful, truly magic venue.
Three locations were created for a variety of activities. An inside and outside stage, a platform, and a room in the spire. As the blocks are not stacked firmly together, there are spaces left between them, so to create an extra sensorial dimension: the enchanting radiance due to sunlight entering during the day, and a soft glow at nightfall, creates a intriguing effect between volume and airiness, as well as a fascinating changing appearance.
After the festival ended, the building was disassembled and the blocks were safely stored. Nevertheless, the "demolition" of the church hasn't been a big problem for locals, as this is just what Lego philosophy is all about: creating brand-new buildings by using the same blocks! Indeed, it's a promise, they will be re-imagined over the festival's next 5 years.
Photo from LOOS.Fm