United Kingdom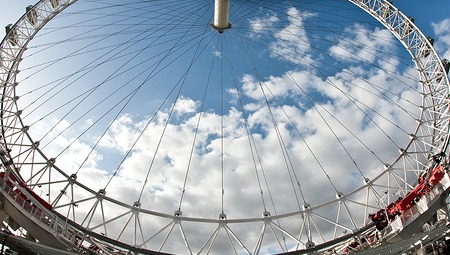 Published on April 3, 2012 | by Francy
0
A Symbol for the City: The London Eye
Every major city needs a unique architectural symbol: Paris has the Eiffel Tower, New York has the Statue of Liberty, Berlin has the Fernsehturm. London has a few candidates, such as Big Ben or the Tower Bridge, but these are lacking something – namely, a view. The London Eye, while it doesn't have the history that the aforementioned buildings have, offers a bird's eye view of the city, making London Eye tickets a must-have for visitors.
While it may seem like an unnecessary indulgence, the ability to elevate people above the city could be argued to serve an important and unifying function in modern cities. All people, from all walks of life and backgrounds are able to ascend above their common home, and view it as a single, kindred place. Our sprawling, populous cities are melting pots, with millions of people from all over the world, and it is important to remind people that they are a part of a community, diverse though it may be.
The London Eye is incredibly young as a symbol for such an old city – it was inaugurated on the eve of the last millennium, a historic date, to be sure, but making it barely 12 years old. It does, however, make a distinct addition to London's skyline. The closed-in pods are eerily alien-like, and the wheel itself breaks the monotony of vertical lines that the skyscrapers become from a distance. It is now a permanent fixture on London's silhouette, appearing on everything from postcards to coffee mugs.
While it has yet to stand the test of time that the Eiffel Tower and the Statue of Liberty have stood, the prospects are good for it be considered their equal in a few decades. Take Berlin's Fernsehturm – construction completed at the end of the 1960s, and it is now the city's main architectural landmark. In fifty years, the now futuristic-seeming look of the London Eye, will probably look as dated as the retro look of the Fernsehturm now, which has typical 1960s space race aesthetics.
The London Eye can, in fact, boast something of a historical significance – at the beginning of the 20th century it had a precedent in the Great Wheel. This Ferris wheel was some 94 metres tall and was open to the public from 1897 until 1907. Built for the Empire of India Exhibition, it took some 2.5 million people above London during its life, and gives the Eye a greater claim to the honour of being a symbol of London.
Photo by Jim Bahn