Shopping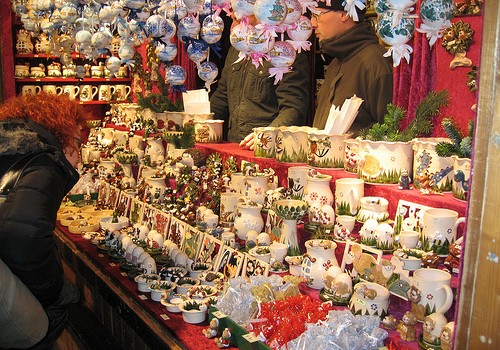 Published on November 17, 2011 | by Elena
0
Christmas Markets in Vienna, a journey through the 5 senses
Austria is a country where Xmas Markets can be found in every major city and town, as for the rest of Europe. The capital itself, Vienna, hosts approximately 25 markets and this is a tradition dating back to Middle Ages. Vienna is a popular tourist destination all year round. Although being a large city, it is often chosen for short breaks rather than long stays, to visit its museums, and view the impressive architecture, not to mention the cultural attractions that Vienna has to offer, and its sweets.
A trip to Vienna in this period, late November and December, would be perfect, considering the weather, still enough "friendly" before Christmas and especially to attend the many Xmas Markets in the city.
The period of Christkindlmarkt, sometimes called Adventmarkt as they take place during the romance, charming advent season, has started on mid November this year.
The markets are mostly located in larger squares and pedestrian areas in the city and sell food, drinks, Christmas decorations and several other items from lovely open-air stalls, perfect also to get Christmas presents!
Classics, among what you can See, include the Christmas market in front of City Hall – on the large town square between Rathaus and Burgtheater; the traditional market on Spittelberg – with stalls spreading through narrow streets and backyards interspersed with cafes and small bars, which focuses on traditional craftwork in a unique setting; that on Freyung – one of the most beautiful squares in the heart of Vienna, which also features a varied cultural program, in a somewhat quieter and less touristic atmosphere; or those in front of Schönbrunn castle and facing the Karlskirche – located in the Resselpark, and focusing on authentic handicrafts made by local artists rather than mass-produced Christmas gifts. And so, so many more, it may be impossible to list them all, just choose some on your way and Touch with your hands what Christmas is in Vienna!
What you can Smell, are the aromas of candied fruits, cotton candy and other delicacies like Christmas punch and roasted chestnuts, which obviously call to be experienced by Taste as well. Then indulge yourself in Lebkuchen (gingerbread), Waffeln, Maroni (sweet chestnuts), Bratkartoffel (baked potatoes), and, to warm up the cold days, enjoy some good Glühwein (mulled wine) and Punsch (glogg) of various kinds.
What you can Hear, finally, is a gentle noise of people, lots of people, tingling around the streets and squares, jingle bells and Chrismas carols echoing everywhere, in a triumph of senses that the spirit of Christmas will make you enjoy even more.
Photo by Wien-Vienna