Top 10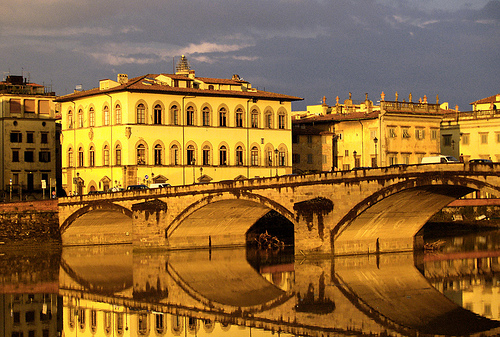 Published on September 16, 2011 | by Andrea Guerriero
1
Top 5 attractions in Florence
Famous throughout the world, cradle of fine arts and literature, Florence preserves in its corners some of the brightest examples of Italian and western culture, right in the heart of Tuscany. Florence is one of the most popular travel cities in Italy and holds countless attractions for the tourist. Here is a review of its 5 top attractions, those that absolutely worth a visit if you're in town.
1. Cathedral of Santa Maria del Fiore
Florence's most popular site, a large Gothic Cathedral, dating back to 1296. Its exterior is made of green, pink, and white marble, with several decorated doors and beautiful statues. Inside, Brunelleschi's Dome is a masterpiece of construction. Paying a ticket you can climb the 463 steps to reach its top. On the same square of the Duomo, you will admire the Baptistery of John the Baptist, Giotto's Bell Tower, and several other museums and buildings.
2. Piazza della Signoria
The heart of the historical centre of Florence is also a free open-air sculpture exhibit. The Loggia della Signoria holds some important statues including a copy of Michelangelo's David (the real one is at the Galleria dell' Academia.) The piazza also hosts the medieval Palazzo Vecchio. All around the square you will enjoy dozens of (expensive!!) cafes and restaurants.
3. Ponte Vecchio
Not far away from Piazza della Signoria, the Old Bridge dates back to 1345 and is the first, only surviving bridge in Florence across the Arno River. Ponte Vecchio is still lined with shops selling gold and silver jewelry. From the bridge, you'll have a great view along the Arno River and beyond.
4. Boboli Garden
Cross the Ponte Vecchio to the Giardino di Boboli, a huge park in the middle of Florence behind the Pitti Palace (a must-visit as well), hosting beautiful gardens and fountains, and boasting a terrific view from its Forte Belvedere.
5. Galleria degli Uffizi
This museum holds the world's most important collection of Renaissance art, with thousands of paintings from medieval to modern times and many antique sculptures, illuminations, and tapestries. Here you can admire works by Michelangelo, Giotto, Botticelli, Leonardo da Vinci, Perugino, and Raphael.
Oof!! 5 attractions are too few in number, We weren't finished yet! We just want to close by adding that you can do some finest shopping in Florence. Here, more than elsewhere in Italy, you'll find leather goods, paper goods, and jewelry as well as nice souvenirs and art productions. And how not to mention the several open air markets selling food, clothing, and antiques. The most famous are the Mercato di San Lorenzo, around the homonymous square and Mercato Nuovo (Porcellino) on Via Porta Rossa.
Photo by Chi King