Food & Wine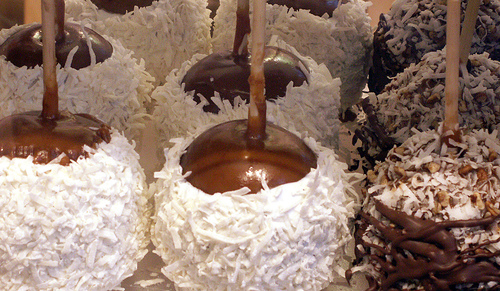 Published on February 7, 2011 | by Francy
0
Turin – the Italian capital of chocolate
Some say that a cup of hot chocolate at the confectionery Baratti&Milano in Piazza Castello, Turin, is a supreme experience. But throughout Turin the experience of chocolate is truly a magical moment. Because this city is the heart of the Italian Industrial District of chocolate, made of antique chocolate shops, retail and wholesale shops, traditional and industrial chocolate companies. And if the role of Turin in Italy – in the field of chocolate – is that of undisputed leader, the city has been also the first capital of the Kingdom of Italy in 1861. Thus, the 150 year anniversary of the country's unification, could not be gladdened but by the sweet nectar.

Starting from CioccolaTò, Chocolate international exhibition (March 25-April 3), which honors the anniversary with a special edition to unify Italy in the name of chocolate: in Piazza Vittorio Veneto will be created a reproduction of Italy made entirely from chocolate.
CioccolaTò will develop in the historical centre, where more than six thousand different products will be presented, from Piedmont, Italy and foreign countries. During the event, in the city will take place several cultural and entertainment activities, as well as exhibitions and meetings devoted to chocolate.
Greedy tourists wishing to visit Turin and CioccolaTò can get the Chocopass (valid for the whole year), which offers discounts and promotions. CioccolaTò is an event that appeals tens of thousands of people, including professionals and tourists who take advantage of the deals provided by tour operators and hotels in Turin.
Photo by Sister72