Summer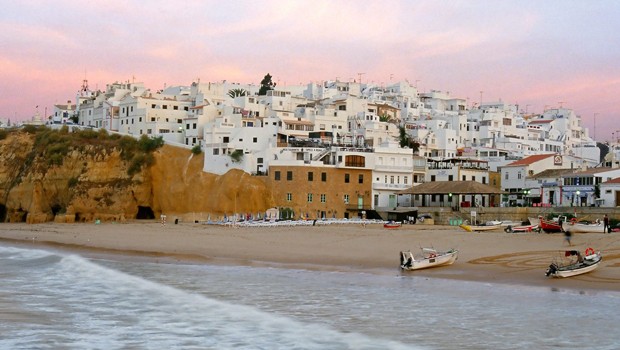 Published on March 30, 2011 | by Andrea Guerriero
2
The best beaches in the Algarve
The Algarve is the southernmost region of Portugal. Tourism plays an important role in the economy of this region: it is the most popular tourist destination in Portugal, and one of the most popular in Europe, with an average of 7 million foreign visitors each year, because of its Mediterranean climate, cuisine, relatively low costs and amazing beaches.
No less than 69 Algarve beaches have been awarded with the prestigious Blue Flag in 2010, for the crystal clear waters, safety, environmental education and management.
Well, whatever you are looking for in a beach, you can be assured that the Algarve has a beach perfect for you!
The "Capital of Tourism" in Central Algarve – indeed in the whole of Portugal – is certainly the area of Albufeira. Here you will find secluded coves as well as wide sandy beaches. Its coastline stretches along 30 km and is divided into roughly 25 wonderful beaches. Right in the town are Praia dos Pescadores and Praia do Túnel; a little further east, you can enjoy the lovely bays of Praia da Oura and Olhos d'Água, as well as the long strip of golden sand of Falésia and then up to Vilamoura. Towards Quinta do Lago there is all the area of the Ria Formosa lagoon, which continues up to Faro and Olhão.
Among the areas of western Algarve, the best treasure is certainly Lagos. This is a great place for practicing any kind of water sports and nautical activities. The spectacular golden rocks of Costa d'Oiro are one of Portugal's best landmarks. Lagos is famous for its award winning beaches, especially Meia Praia, 4km of golden sands with several bars and kiosks on the beach. From Lagos to Sagres. Here you get within a national park territory with plenty of quiet coves and long sandy bays along the coast. The most dramatic beaches in Sagres are Praia da Mareta and Beliche – both broad bays, sheltered by cliffs on each side and protected from the wind; and Martinhal, right in front of the Baleeira, the fishing port of Sagres, a haven for windsurfers instead.
The eastern Algarve beaches are a long stretch of sand running from the edge of River Guadiana at Vila Real de Santo António to Manta Rota including Praia de Monte Gordo, Praia da Lota and Praia da Manta Rota.
The best way to get to the Algarve is by plane. Around half a million visitors choose air travel to the Algarve every year. Also those who wish to fly low cost will have no difficulty in finding cheap flights available. The most popular airport for Algarve is at Faro. Within Europe, you can fly to this region from many destinations. However, it is advisable to check on seasonal availability, as some airports do not offer Algarve flights all year round.
Photo by Sue Elias