City Breaks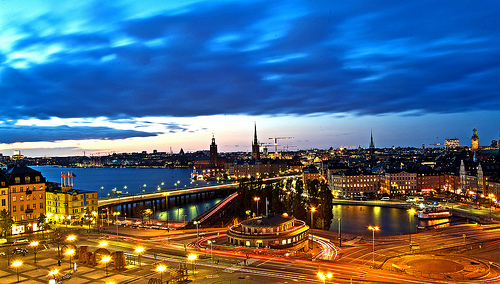 Published on October 7, 2011 | by Andrea Guerriero
0
Stockholm city breaks: mini guide to the Venice of the north
Stockholm, one of the most beautiful capitals in the world, is the perfect destination for the beginning of autumn, before it starts getting cold. Celebrated as the "Venice of the North", Stockholm is built on 14 islands connected by 57 bridges. The beautiful buildings, the greenery, the fresh air and the proximity to the water are the distinctive traits of this city.
With its rich cultural life, Stockholm boasts a 750 year history, well preserved in a wide selection of world-class museums and enclosed within hundreds of monuments and attractions. The great thing about Stockholm is that one day is enough to visit it all, or at least a great part of it, most of the city's attractions can be reached on foot, and you can enjoy lots of things in a short time.
If you want to immerse yourself in the green, head towards the Royal National City Park, one of the flagships of the city, being the first National City Park in the World. Moreover, the green island of Djurgården, hosts the world-famous warship Vasa, as well as the world's oldest open-air museum Skansen, or Astrid Lindgren's Junibacken.
Among the most important buildings, there are the Stockholm City Hall – where climbing the City Hall tower you will have the opportunity to enjoy a terrific view over the city – and the Gamla Stan – a maze of narrow cobblestone streets and orange-hued architectures, which is one of the best preserved medieval city centres in the world; among other outstanding constructions, it includes the Royal Palace and the Cathedral. You will love to walk through the small winding streets full of shops where to buy handicrafts and antiques, and art galleries and cafés to spend interesting, pleasing afternoons.
In Stockholm you can choose from plenty of bars and clubs to dine out, for a drink, or a simple visit to famous landmark spots. This is the case, for example, of Stockholm Ice Bar, a true legend. Technically, you enter the bar paying a ticket and then you can stay how long you wish to, drinking as much vodka you can. The question is: how long do you think you could resist in there?
Finally, don't miss the chance to enjoy Stockholm from the water. You can choose between many different tours depending on your interests, such as "Under Stockholms Broar" (Under Stockholm's Bridges), "Djurgården Runt" (the Royal Canals tour), and many others.
A city built on 14 islands cannot be but stunning by roaming around it on a boat. And if fourteen islands aren't enough, Stockholm offers a wonderful archipelago with 30,000 islands, islet rocks and skerries.
Photo by hector melo