Lifestyle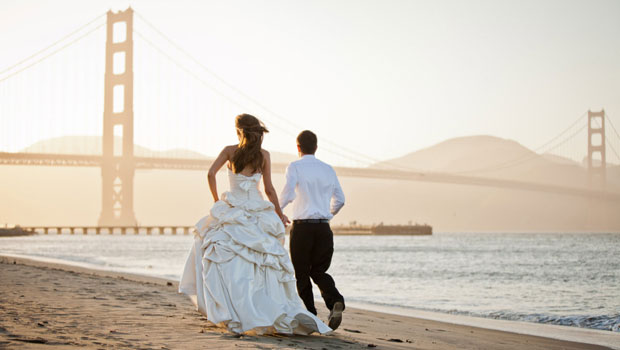 Published on May 11, 2016 | by Punam Deka
0
Romantic Wedding Venues of San Francisco
Wedding is an important part in one's life where two people get united in a bond forever. It is one of the most important ceremonies and everyone wants to make it memorable event which can be cherished for a life. Gone are the days, when couples used to head to their local church, get married and return to their house or the village hall for reception with some kind of homemade food. With the passage of time things have changed and nowadays everyone wants their wedding to be like an affair to remember forever .Today destination wedding has become the latest trend and more and more couples are heading towards some exotic locations which offers great wedding packages and includes every activity from the proposal part to the romantic wedding ceremony.
There are many locations around the world which are best for destination wedding and one of the most beautiful destinations in this regard is San Francisco which has so many romantic venues which are hard to resist once you see them and especially when decorated for a marriage. Perhaps the city is regarded as a unique and romantic place, making it a perfect choice for to be bride and groom as a unique and romantic wedding location.
Planning your special day at San Francisco? You can get overwhelmed by its venues available on rentals, which include hundreds of hotels, natural settings, and historic mansions or halls. Here are some of the city's unique venues discussed:
San Francisco City Hall – Beaux-Arts Grandeur
Generally when the idea of City Hall comes to our mind, a structure representing a bland municipal building with a dour atmosphere and some peeling paint comes to our mind, which is exactly not considered as an ideal wedding spot. But the idea is different in case of San Francisco's City Hall as it is a Beaux-Arts monument having a breathtaking rotunda, making it a magnificent wedding location at San Francisco. The building's architecture has soaring columns, marble floors and a grand staircase in the centerpiece, which serves as a favorite backdrop for your wedding ceremony. The place is not much expensive and this gorgeous building also provides enough space for wedding reception with a capacity of 3000 guest, thus offering you a spectacular setting.
http://sfgov.org/cityhallevents/wedding-package
Swedenborgian Church – Craftsman Rustic Charm
Swedenborgian Church, built in the year 1895 by a group of architects and spiritual seekers is a National Historic Landmark and is the only worship house in San Francisco to be awarded with this honor. The church has a beautiful atmosphere and the warm lighting of candles and crackling of roaring fire adds more magic to the wedding ceremony setting at the Swedenborgian Church. Swedenborgian has a beautiful interior with coffered ceiling which is accented with wooden walls and natural tree trunk beams. A fireplace is present and the couples getting married walk past the burning wood fireplace while making their way to the wooden altar. After the wedding the guest can make their way towards the flower filled garden for reception. The church has a capacity of about 100-115 guests and the garden has a sitting capacity of 45 and 75 to stand for.
The Legion of Honor – Married Amongst Artwork
It is one of the beautiful wedding venues in San Francisco which offers impressive view and features historic and grand architecture. It has a neoclassical architectural design which is beautifully paired with fine art and at the same time you can enjoy the privilege to get married among the Rhodin sculptures. It is much spacious and the wedding ceremonies take place at the Balustrade Lawn where the couples exchange vows against the backdrop of the Pacific Ocean and Golden Gate Bridge. The wedding reception takes place at the Rodin galleries where the adjacent halls are highlighted with more than 70 Rodin sculptures. You can enjoy your cocktail reception in one gallery, dinner in the second and tap your feet to the tune of music in the third, thus giving your guests an intimate experience with some sort of legendary sculptor's most famous pieces. The museum has an outdoor capacity of 275 guests and indoor capacity of 300 guests.
https://legionofhonor.famsf.org/about/rent-legion-honor/weddings-legion-honor
Presidio Log Cabin – Rustic in the City
Presidio Log Cabin which is a part of Presidio National Park is a popular wedding venue having rustic theme and boast of its beamed ceilings, log walls, large dance floor and wagon wheel chandeliers. Outside the Log Cabin, there is a large flat lawn which is used for wedding ceremonies and at the same time The Presidio Interfaith Chapel is also suitable for ceremonies. It is an elegant space with large sitting area and a stone fireplace in the Presidio Log Cabin makes it a wonderful place for the chilly San Francisco evenings. Many couples had their incredible wedding ceremonies here and it has a sitting capacity for 150 guests.
http://www.presidio.gov/venues/Pages/Log-Cabin.aspx
Bently Reserve – 1920's Opulence
Bently Reserve featuring a travertine walls, soaring hall and Italian marble floors is a glamorous hall built in 1924 for the Federal Reserve Bank of San Francisco. It has a 34 foot tall ceiling and has a perfect setting for a type of lavish San Francisco wedding. For the wedding ceremony the couples makes their way through the entrance down the steel staircase and grand marble to the hall which has a capacity of 350 seated guests. The full space at the Bently Reserve is used for receptions which have a capacity of 650 standing guests and 400 seated guests. There are curtains provided which allows you to create separate columns of spaces for the purpose of catering stations, photo booths and even dance floor. The building also has an ideal cocktail party space on its second floor.
http://bentlyreserve.com/weddings
I am sure after reading all this you can say that, San Francisco is one of the most beautiful cities of the world, with a range of unique wedding ceremony locations that serves as a great wedding destination both for locals as well as for the outsiders. Thus if you have any plans to ring your wedding bells any sooner, go for a perfect destination wedding, at San Francisco. Book your tickets soon with TravelHeyDay which will provide you the best prices on flights to San Francisco, and you can simply search compare and book online.