United Kingdom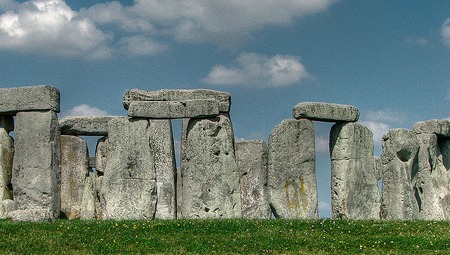 Published on April 19, 2012 | by Daniela
0
Mystery day trip to Stonehenge
London is so overwhelming that when you are there you often forget about everywhere else! However, most of you will probably get back, and back again to England, several times in a lifetime, so one of these times, don't "forget" to head towards one of England's major landmarks, and one of the world's most beloved and discussed mysteries: Stonehenge.
The World Heritage Site of Stonehenge is located near Salisbury, in the beautiful Wiltshire countryside. Out in what appears to be the middle of nowhere, there's a green land with huge standing rocks in the middle. You can't get really close and touch the stones, but a roped off path around the rocks allows for a 360° view of the monument.
Stonehenge won't disappoint you. It only takes about an hour to visit it, but it's something you just have to see if you're in England. It's old, big and mysterious enough to drive you into a fantastic and dreamlike journey through history and legend. Did you know, for example, that the site is older than the pyramids?
Stonehenge dates back as far as 3100 B.C. The current circle of stones is the third one that was built on that site, as Stonehenge was built in three phases that consisting of over 30 million hours of labor! The monoliths were erected by prehistoric people, and actually no one knows the real purpose of the site: rituals? Religion? Astronomy purposes? Who knows. This makes it even a more enthralling site!
Whatever the reason, these standing stones are a wonder to everyone. You can virtually spend a whole day at Stonehenge: it's amazing at the crack of dawn, it's terrific at dusk. The real question, at this point, could be: What would Stonehenge mean to you?
The true meaning of this ancient creation has been lost in the mists of time, so it's up to you deciding if you want it to be a temple for sun worship, a burial site or perhaps a huge calendar… Many claim the rock formation has mystical and healing powers and many say they experience such powers upon visiting!
Archaeological excavations have been carried out in and around Stonehenge for many centuries, and nowadays, just as it happens with pyramids, new recurrent discoveries still amaze tourists.
Today Stonehenge is protected by the British government and managed by English Heritage. The easiest way to get there from London, whether you haven't hired a personal vehicle, is to take a train from London Waterloo to Salisbury. Once in Salisbury a bus takes you directly to the site. Buses also depart from London at the Heathrow Airport and Victoria Coach Station. If you choose traveling to Stonehenge this way, you will get off at Amesbury. The park is open every day of the year except Christmas Eve and Christmas Day. Opening times vary depending on the season and there may be restrictions at the Solstices (strange things happen over there at Solstices… just kidding, but think about the reason why of these restrictions…) and other times. Prices range from 4.70£ for children to 7.80£ for adults (children under 5 are admitted free.)
Photo by hans s