World
Published on November 18, 2016 | by Andrea Guerriero
0
An Insider's Guide To Singapore
There's nothing quite like exploring a new country through the eyes of a tourist. Everything seems new, fun, interesting, and exciting. For those of us with the traveling bug, it's the most exhilarating experience imaginable. The problem? If you stick to your average guidebook, you'll be funneled through the dreaded tourist trap: fabricated 'authentic' restaurants and bars, hotspots that are frequented by anyone but locals, and a basic set of highlights that don't give you a true sense of the place. As you can probably tell, that's not how I think Singapore should be enjoyed!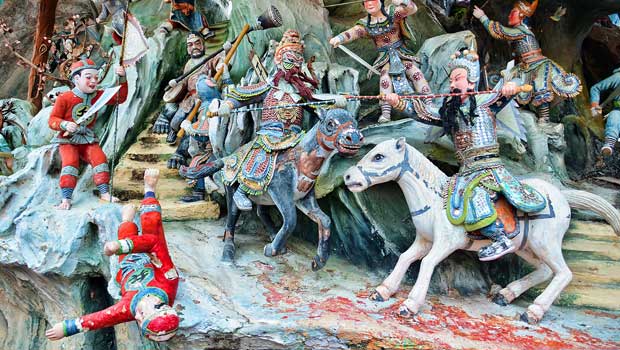 Take my last visit, for example. I finally got around to visiting Haw Par Villa, one of the strangest attractions Singapore has to offer, where Chinese folklore is brought to life through hundreds of statues. The infamous Ten Courts of Hell scene vividly depicts some of the imaginative punishments you could get for committing a variety of sins. It's interesting if a little gruesome, but makes for a fun and different day out. Of course, there are so many other attractions and places to visit. I share some of my favorite places with you so that you can experience Singapore like a real local without having to be one!
Gain an Appreciation for Singapore's Biodiversity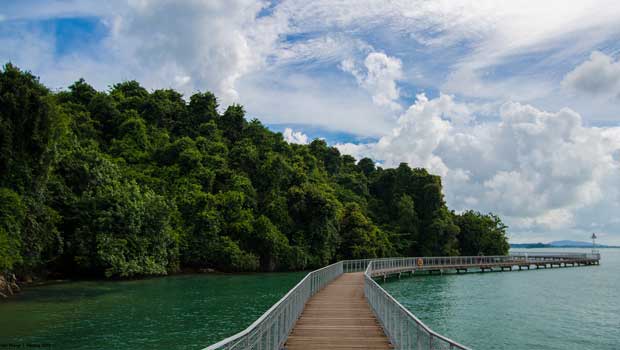 You will likely have heard of Sister Islands Marine Park, and while they do offer free guided walks, they are usually fully booked and getting to the island isn't exactly cheap. Instead, take a low-cost bumboat to Chek Jawa and go for a free guided walk with some great volunteers who will fill you in on the country's fascinating biodiversity. The guides do a great job of raising awareness of the rich and fragile ecosystems, and you may be lucky enough to spot some unusual local wildlife while you're there.
If you're not one for getting up close and personal with wildlife, then consider visiting the S.E.A. Aquarium. It's one of the biggest aquariums in the world and home to over 100,000 marine animals. My favorite bit is the glass floor located near the touch pool. If you stand on top of it, you get to watch the fish swim right below your feet. I advise visiting in the evening (they're usually open until 7 pm) or on a Monday if you want to avoid the crowds.
Take a Walk Through History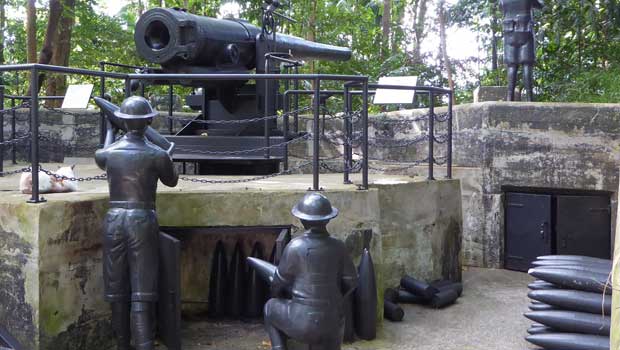 Singapore has a pretty fascinating military history, and there are various places where you can get a real sense of the past. There are many abandoned tunnels and forts you can visit, including the forgotten ruins of Fort Serapong.
The fort, along with Fort Pasir Panjang, was built by the British to protect the colony's flourishing port against sea attacks in the late 19th century. While some forts have gone on to be converted into military museums, others remain in ruins to this day. To get to Fort Serapong, travel up Serapong Hill Road. If you stop at the top of the hill, you will get a stunning view of the city below.
If you would rather receive a guided tour of a well-maintained Singapore fort, then I recommend checking out The Battlebox. It was built in the 1930's and used as a British underground command center during WWII, but is now a museum with an impressive tour. The landscape on offer at Fort Canning alone makes the visit worthwhile.
Try Some Fantastic Street Food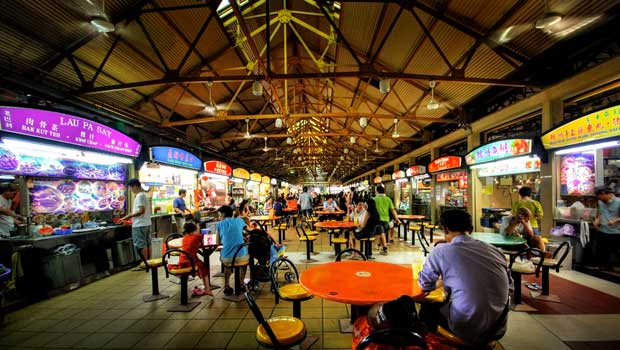 If you're visiting Singapore, then you must visit at least one Hawker Centre. Everyone has their favorite, and one of the most famous ones would have the be the one on Old Airport Road. Maxwell Road is another great place to visit if you want to sample a variety of local dishes. There are a few dishes I would recommend you try, including:
Chili Crab: Large pieces of chopped crab deep fried and served with an excellent sauce made with chili, egg, tomatoes and various spices. You won't want to leave any of the sauce on the plate, so make sure you order a side of deep fried Chinese buns with that.
Satay: If you're a fan of spicy peanut sauce, then satay is the dish for you. Choose from smoky marinated chicken, pork, or mutton grilled skewers, served with sauce and rice cakes.
Nasi Lemak: I prefer the Malay version which is crispy fried fish, sweet and spicy chili, coconut milk, and lovely fluffy white rice. Get yours at Changi Village or Adam Road.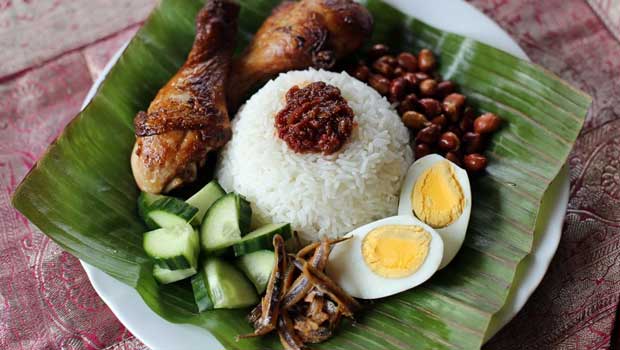 Visit Singapore!
I've only mentioned a few reasons to visit this great country, but there are many more. Visit a password-only speakeasy bar, camp out on a deserted island, or kayak through a mangrove forest; there is plenty on offer for people of all ages and interests.