Winter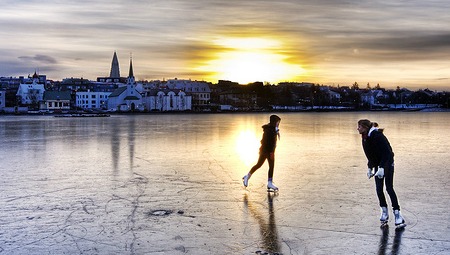 Published on November 12, 2013 | by Francy
0
Ice at the Tower: ice skating in London during Christmas time
Are you looking for good ideas to cheer up your Christmas holidays in London? The capital city of UK features an array of fantastic ideas that show the city at its best in this period. To begin with, during the Christmas period many famous London landmarks open their doors to offer visitors a thousand ways to have fun. You can shop at Christmas Markets, admire Christmas lights, grab ideas at a Christmas fair, attend Family Christmas shows…
Or, you can just spend an hour or two enjoying ice skating at one of the many ice rinks scattered around the city! Ice skating has had a long tradition in London, where as far back as 1933, skaters were pictured skating around Hampstead Heath's Whitestone Pond on a chilly January morning…
Along with others of great renown, including the Hampton Court Palace Ice Rink, the Eyeskate rink in Jubilee Gardens, Somerset House Ice Rink, and Hyde Park, the Tower of London Ice Rink is one of the most dramatic open-air ice rinks in the Capital of UK.
Running for its nineth year, the Tower of London ice rink, aka Ice at the Tower, offers a grand historical setting for seasonal skating sessions, along with dramatic views of London. Indeed, this real-ice rink, is situated in the dry-moat beneath the fortress of the Tower of London, and offers the chance to skate in a wonderfully festive scene on the banks of the River Thames.
Atmospheric, exciting and truly entertaining, the Tower of London Ice Rink is spectacularly lit up after dark so it really comes alive when the sun goes down on the city, thus becoming a stunning night-time destination. An ideal winter activity for children, couples and friends alike, it's good to know that wheelchairs are welcome on the ice too, except during the last session of the day.
It will stay open daily – 10am-10pm – from November 16 until January 5, 2014, excluding Christmas Day. Ticket prices range from £9 for children, £13.00 for adults, and £36.00 for families. Children under the age of 12 must be accompanied by an adult.
Beside the ice rink, the Ice Bar & Cafe provides a welcome place to warm up after your skate, serving a selection of winter drinks and snacks.
Well then, wrap up in your warm heavy clothes (but not too much!) and enjoy the magical atmosphere while you skate at your leisure around this beautiful ice rink lulled by Christmas songs and decorations. Advance bookings are highly recommended as skating sessions around Christmas and the New Year sell out fast.
Photo by Stuck in Customs