Guides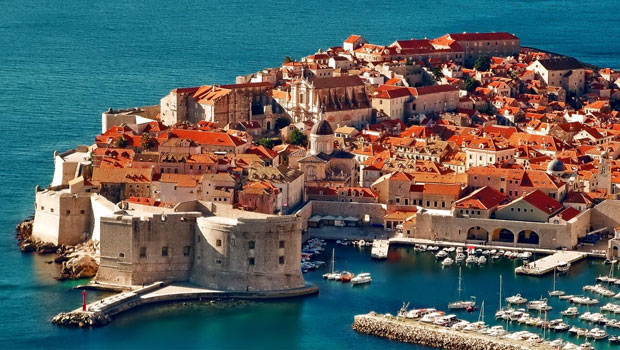 Published on February 24, 2017 | by Nat Martin
0
Croatia: The Hidden Wonders of the Adriatic Coast
I left my heart in the Adriatic Sea and now all that is left to do is write about it. It's true to say that once my idyllic adventure of the Croatian coast came to an end, I was certain the rocky shores and crystal turquoise waters weren't going to leave me any time soon. I had visited this part of the world many years previous, when it was formally known as Yugoslavia. Of course, I was slightly younger and not so well travelled then but I had not forgotten how taken aback I was by the relaxed way of life and beautiful surroundings. So, when it came to myself and my hubby James deciding on where to enjoy several weeks living on board a boat aimlessly floating from island to island, there was little competition. The child in me was wanting to relive those early, carefree holiday memories once again.
In very little time at all, we had booked our flights and arranged a boat rental for our fourteen-day adventure. If you're considering Croatia as a holiday destination, do not second guess yourself. Flights can be surprisingly cheap, especially if you decide to fly into Split as opposed to the famous hotspot Dubrovnik, which is exactly what we did. Both locations are at separate ends of the coast, so it really doesn't matter at what end you begin your sailing week in Croatia. I would always recommend you are creative with your route – keeping an open mind is a far more 'European' way to enjoy the Adriatic waves.
Split, Not the Verb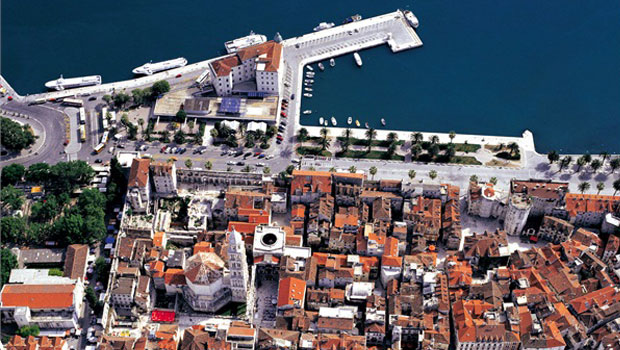 Split is fast becoming the traveller's dream destination. Where once it was the ugly duckling of Croatia destinations, it's now a hub for exquisite food, wine and culture and will always hold a dear place in my heart. As the first place we touched base, it naturally took the role of introducing me into the new way of Croatian living. Aside from the eclectic mix between city and beach destination, Split is also only a short distance away from one of Croatia's many national parks, Krka. Now, we didn't decide to tackle this destination via our own boat as we had heard it's best to allow the designated tour guides to arrange transport. The picture above speaks for itself, Krka is home to breath taking waterfalls and what feels like a Caribbean dream hidden within our European shores.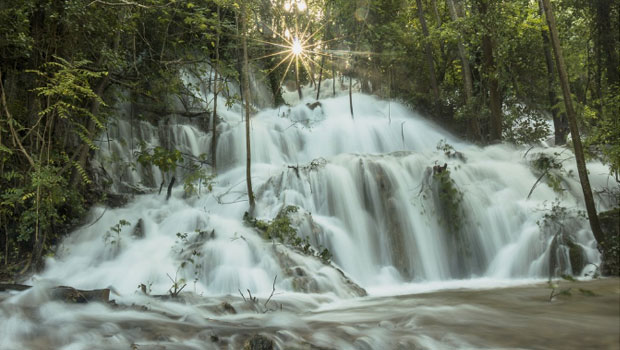 Split holds a buzz of travellers from across the globe. We spent several of our evenings enjoying Croatian wine with a group of young Australian travellers who were taking time in Split to recuperate from the more party style Island, Hvar. Before you ask, yes, we did visit Hvar, we may be pushing 30 but the party days are not yet behind us, we had rented a boat for goodness sake, how much more party can you get? It is this that makes Split and Croatia so special to me, whether you're a young couple on their first holiday, a group of backpackers or nautical adventurers with a little more to spend, Split welcomes you and allows for a very colourful holiday experience.
Brac
For most nautical tourists, the first port of call after Split is the island of Brac, and to be more precise a small place called Milna. Situated on the Western side of the island of Brac, Milna is a very popular nautical destination. The coast around this area is very well indented and therefore you should find no problem finding a safe spot to anchor. We found ourselves drawn to Cove Bobovisca, where we were fascinated by the point in which the cove splits into two branches, and the cove allows for dockings of all types of boats, big or small. Milna harbour is also well protected from all winds – we had heard that north-west winds had in the past caused unpleasant harbour swell, but luckily, we managed to avoid that during our brief stay.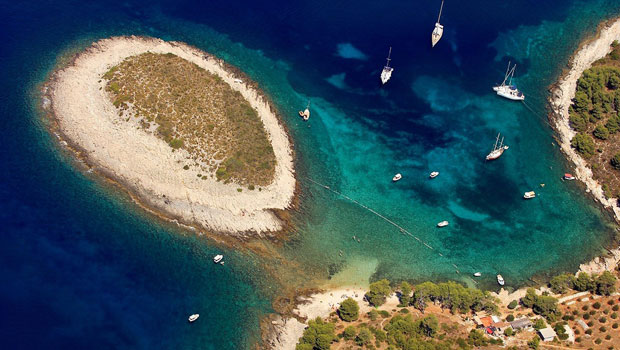 Some of you may be shocked to hear that little over 20 years ago, War broke out in Croatia. The subject is complex and I'm certainly not one to comment on the political infrastructure behind the unrest but what I can say is how, as a visitor, you can't help but notice the passion amongst locals to keep tradition alive. The memories of my first trip soon became incredibly vivid, the smell of antifouling paint was so overwhelming and incredibly powerful on entry of the harbour that it took me right back to being a young snapper clutching at my father's ankles. A group of elderly men would hang around the harbour, working on the boats, something you can expect to see across the whole of Croatia. It's comforting to see and instils what is so important in a country that has been through an incredible time of turmoil. I advise you to be aware of this part of Croatian history, it's still very raw to those who call it home. Harbours are certainly where this is kept alive by fisherman, singing old war songs and toasting to old times on the evenings.
Kings Landing, Dubrovnik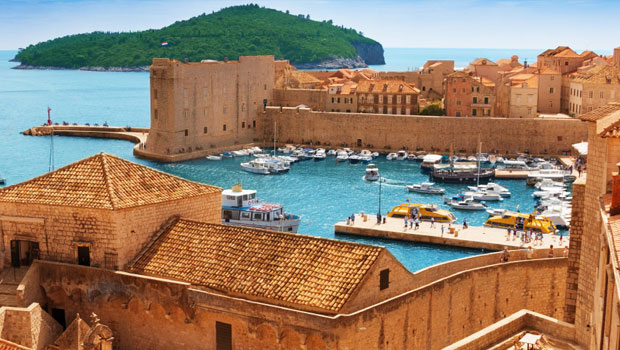 Dubrovnik marked the end of our Adriatic coastal tour, along the way we spent time in Split, Brac, Hvar, Vis, Korcula, Miljet and despite adoring every jagged rocky island we arrived at, Dubrovnik deserves its own recognition. In regards to anchoring your boat, we personally had no issues but we did travel slightly off season in late September. I would always advise you take time to read up to date online information regarding potentially booking a space in advance should you wish to travel at peak times.
Once on foot, you'll no doubt be overwhelmed by the large scale medieval walled city, famously hailed 'pearl of the Adriatic' by George Bernard Shaw. Indeed, it's hard to imagine anyone becoming jaded by the city's marble streets, baroque buildings and the endless dazzling shimmer of the Adriatic. Failing that, there is of course the chance to be inspired by a walk along the ancient city walls that have protected this civilised, sophisticated republic for five centuries. My face come the end of our morning walk around the wall was not one I wish to share via imagery, but know that it's worth the trip. If you wake early, this will allow you time to start to walk ahead on peak heat. We timed this perfectly and ended just in time for coffee and cake, hoorah.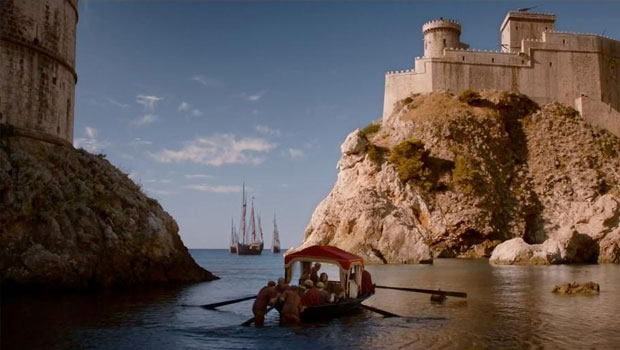 Dubrovnik is home to many wonders. If you are a Game of Thrones fan like James and myself, you'll no doubt be blown away by the number of filming scenes you'll find yourself amongst, even sunbathing in! Daenerys has nothing on me when.
Enjoy getting lost amongst the many back streets, take yourself far away from the water to gain a better perspective of this incredible landscape. Dubrovnik is home to its very own cable car, meaning you can end your day watching the sunset from above, there is also a restaurant situated at the top so if you're a romantic at heart book away and enjoy the views!
Croatia is a hidden wonder that will fast become everyone's favourite hideaway destination, I have no doubt. Whether you decide to go via boat or a more traditional travelling method know that you will be visiting a place of great history and impeccable views. I sense a new era for the country, where once Yugoslavia was a place a great unrest and oppression, now the traditional songs ring amongst the marble back streets and intertwine with the hum of traveller accents. There is so much to be discovered, I'll forever be exploring the Adriatic to find new gems. Also, you can check out TravelDepartment.com for more information about Croatia. In the meantime, I'll keep it firmly in my heart.