Germany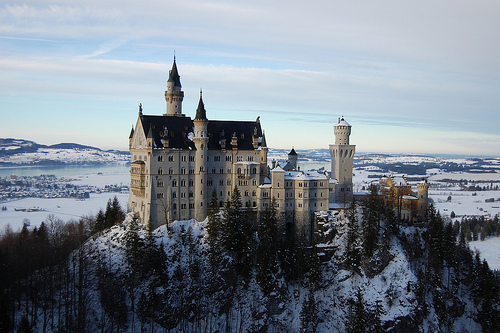 Published on October 25, 2018 | by Germanico
3
Castles in Bavaria: Neuschwanstein and the Sleeping Beauty
In comparison, Harry Potter's Hogwarts castle seems a prison of the Inquisition. Yes, because thinking of the castles you see in fairytales, those with a happy ending, laces and hearts, you can only imagine the Neuschwanstein castle, a symbol of Bavaria. And although it seems so ancient, the Neuschwanstein Castle is only about 140 years old. Standing on a rock not far from Füssen, its construction begun in 1869 and was never completed; it was built by Ludwig II – as a result of one of his fickle dreams – who was a King loved by his subjects and hated from German political and economic parties.
In fact Ludwig, openly gay (and therefore already quite unconventional for that time), wasn't much interested in monarchy issues, nor economic and political problems: he loved the ideal of beauty, he adored Wagner (who knew how to "exploit" him very well) and mostly, he was keen on building castles… fairytale castles.
This craze started while he was still a child, growing up in his parents' Hohenschwangau castle, in south Bavaria, near the Austrian border. Nowadays, this "house" is mistakenly listed as one of Ludwig's works, although it certainly influenced him greatly.
Ludwig's "authentic" castles are the Herrenchiemsee castle, built in the image and likeness of Versailles, for his devotion Louis IVX, the Sun King; the Linderhof castle, which is actually a palace, with gardens and fountains; and, finally the Neuschwanstein castle.
As already said, this is the fairytale castle par excellence, and it was not designed by an architect, but by a set designer, Christian Jank. Neuschwanstein, on the border with Austria as well, is almost a thousand meters high, it's located near Füssen and Schwangau, and is surrounded by a landscape of equally fabulous conifer forests dotted with small lakes.
Nonetheless, as if by magic, the fairy tale became… reality, when Walt Disney, after a visit to Neuschwanstein, decided to pattern on this model the castle for the animated movie The Sleeping Beauty (1959,) now also replicated in all the Disney parks in the world.
Marble, gold, brocades, ivory, paintings, ceramics swans, canopy beds, stairs, but also masterpieces of hydraulic engineering, to bring hot and cold water in all rooms, paintings and works of art even in the servants' bedrooms: Neuschwanstein Castle is a fairytale place both inside and outside.
Its wonderful interiors, where wooden vaults and rich drapes enrich the halls where the king enjoyed the company of musicians and artists, well worth a trip, in an atmosphere of romance, diving in the legends of Germanic heroes.
Information:
www.neuschwanstein.de
– Opening Times:
April to September, from 9.00am to 6.00pm
October to March, from 10.00am to 4.00pm
– Getting there: By train to Füssen, take the bus and climb to the castle on foot, by bus or coach
– You can purchase a special pass that allows you to visit several castles in Bavaria, valid for two weeks.
Photo by p2bg