Spain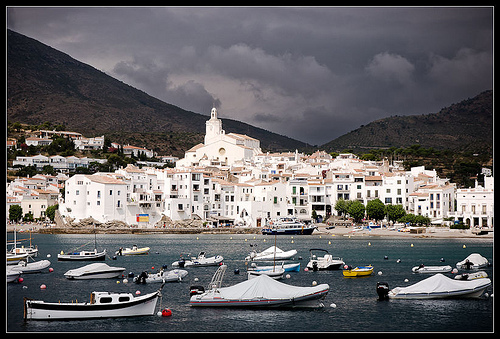 Published on June 1, 2011 | by Andrea Guerriero
0
Cadaqués – the most beautiful village in the world
In one of the busiest areas of Spain, the Costa Brava, Cadaqués is a city in the province of Girona, overlooking the Mediterranean Sea and located within the magnificent Parque Natural de Cabo de Creus, also chosen as a holiday resort by the famous painter Salvador Dali – who described this place as "the most beautiful village in the world."
Cadaqués is famous first of all for its amazing beaches: crystal clear waters lapping on secluded coves and a privileged status as natural harbor which allows the practice of many water sports such as diving, windsurfing or sailing.
Right in the centre of Cadaqués, you will enjoy Platja d'Espianc, one of the most popular beaches, although the record is held by Platja d'Es Portal, which is right in the centre of the Bay and always hardly crowded. If you want something more intimate and… wild, you have to get up to Platja d'en Pere Fet, an almost virgin inlet where you can also spend a whole day without meeting a soul! And finally, how not to mention Platja de s'Arenella, the beach named after the characteristic islet that is located just in front of it.
In addition to beautiful beaches, Cadaqués also boasts a picturesque old town consisting of a vast and intricate network of narrow streets that climb and crisscross up to the imposing church of Santa Maria, with its beautiful white facade and a well-restored baroque altarpiece inside.
The town is also home to important modernist buildings – like Casa Serinyena, as well as several art galleries and museums – the most important of which are undoubtedly the Salvador Dali House-Museum, situated in Portlligat bay, north of Cadaqués, the Museo Municipal de Arte and the Museo Perrot-Moore, with works by Picasso, Klein and Chagall, other artists who have formed a strong bond of affection with this little-known corner of paradise.
Although the bustle and activity during high season, Cadaqués is still a place where there are no nightclubs, but only a number of restrained bars and restaurants where to spend lazy evenings.
The white houses and narrow alleys, the overturned fishing boats on small beaches, the warm lighted bay glowing at sunset, the liveliness of the streets at night, the clatter of dishes outside the restaurants. These are the things to see in Cadaqués, a village that has remained unchanged and authentic for centuries, the most beautiful village in the world!
Photo by Jos Dielis